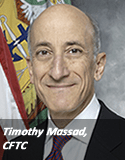 US regulatory Commissioners have backed new plans for swap execution facilities aiming to breathe life into the electronic trading platforms.
The trading venues at the centre of swaps reforms in the US were launched a year ago but have not had the uptake many expected, especially from a hesitant buy-side.
In a bid to fine-tune the rules, Commodity Futures Trading Commission (CFTC) chairman Timothy Massad has announced steps to "improve the operational aspects of SEF trading".
Part of the change includes a no-action relief that will streamline the process for correcting erroneous trades, while the chairman also said the commission plans to eliminate the requirement to report confirmation data for intended to be cleared swaps.
The CFTC extended a previous no-action relief permitting the SEF legal confirmation to incorporate the ISDA Master Agreement by reference.
Crucially for the buy-side, Massad also addressed the issue of whether trading of certain swaps should be required to be anonymous.
"We have heard market participants express concern about potential negative consequences of this practice with respect to its effects on liquidity and participation, and I have not heard a compelling justification for it," said the CFTC chairman. 
"In light of that, I am discussing with my fellow Commissioners possible actions, and I expect that we will have more to say on this in the future."
Massad's proposals were backed by fellow Commissioners, including J. Christopher Giancarlo, who has been outspoken in trying to push forward swaps reforms.
"I support these commonsense measures that address concerns raised in my January 2015 White Paper: namely, streamlining the process of correcting error trades, flexibly interpreting SEFs' financial resources requirement and simplifying swap trade confirmations by SEFs," he said.
"I look forward to continuing to work with my fellow commissioners to take further action to better align the CFTC's swaps trading rules with the sensible and flexible regulatory framework set out by Congress in Title VII of the Dodd-Frank Act."