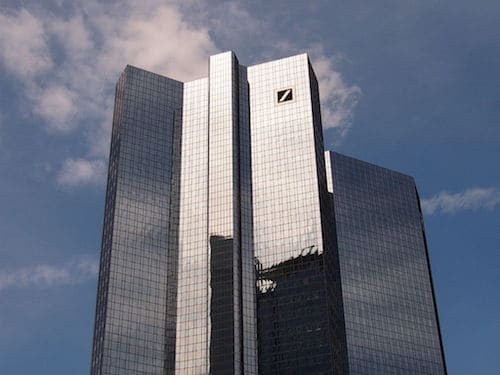 German investment bank Deutsche Bank is confident that its new strategy and restructure has made its business more resilient in light of disruption from the potential spread of coronavirus across Europe.
Deutsche Bank chief executive, Christian Sewing, outlined the risks the coronavirus imposes on its business in a message to staff, but gave assurance that it has strong capital and liquidity base to manage further disruption.   
"We are far better equipped for a difficult phase in the financial markets now than we were just a year ago," Sewing said. "Watching our performance in the quarter to date, it is clear to me that our new strategy is not only an important prerequisite for growth and sustainable profitability, but that it has enhanced our flexibility and resilience – especially in an unfavourable environment."
Deutsche Bank confirmed in July that it would implement the biggest business overhaul the bank has seen in a decade, with plans including a targeted reduction in adjusted costs of around €6 billion by 2022 and the loss of approximately 18,000 full-time positions. The institution also agreed to transition its prime brokerage and electronic equities franchises to BNP Paribas following years of doubt on sustainability of the businesses.
Sewing also confirmed that Deutsche Bank has taken action to protect its staff and prevent further spread of the disease by splitting teams, while others rely on working from home. According to a report from Bloomberg, an employee at Deutsche Bank's Frankfurt office has tested positive for coronavirus.
"We have implemented appropriate measures in line with the situation on the ground or in the respective area of the bank. Many teams have switched to split mode, while others are partially relying on staff working from home. We have reduced business travel to a minimum and have cancelled large-scale events," Sewing said.
JP Morgan, Goldman Sachs and other major banks have also reportedly taken similar precautions by splitting some of their teams and warned staff to be prepared to work from home.
Exchanges have seen disruption in the US, with derivatives exchange operator CME Group confirming this week it will close its trading floor in Chicago, alongside Cboe Global Markets which will suspend its open outcry trading floor at the close of business today until further notice.