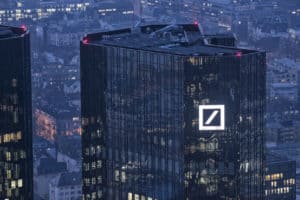 Deutsche Bank chief executive, Christian Sewing, has doubled down on his view that the European banking landscape will see more consolidation in the medium-term.
On the investment bank's second quarter 2020 earnings call, Sewing was queried on his thoughts on consolidation in the European banking sector following comments he had made during the organisation's annual general meeting (AGM) in May.
Sewing had said during the AGM that consolidation on the sell-side "inevitably will and must" happen for European banks, and with its current transformational strategy in place, Deutsche Bank is "far better equipped for consolidation".
"You know my view," Sewing said on the earnings call this week in response to a question on his comments during the AGM. "I had said two years ago that over the medium-term, I think that consolidation will come in Europe but there are certain preconditions – that it's a banking union, that it's the capital markets union. We need, in my view, less banks in Europe in order to be competitive globally."
In March last year, Deutsche Bank confirmed that it was in talks with Commerzbank to explore a potential merger. Both banks have faced significant financial difficulties, with Deutsche Bank swinging into profit only last year after reporting its first full-year net profit of €1.3 billion since 2014.
Critics of the merger argued that combining the two struggling institutions would only create a larger problem for the German banking industry, and the talks failed to produce an official deal between both banks.
On the recent earnings call, Sewing was questioned on whether now could be the right time to re-examine the potential merger with Commerzbank, but he suggested that a deal is unlikely to be realised any time soon.
"On Commerzbank, you know my comment, and that is we have our hands full with the restructuring and with our transformation," Sewing said. "We completely believe in our standalone plan, and whatever we are looking at must always be value-enhancing, and must be incremental value-adding to our standalone plan. As we are outperforming even our own plans for the time being, that is quite a high hurdle."
Sewing's comments on consolidation in the European banking sector follows a recent report from FIS, which found that more sell-side firms are looking to mergers as a growth strategy post-COVID-19. The poll of market participants showed that 35% of sell-side firms named mergers as a growth strategy post-COVID-19, an increase from just 12% of firms before the crisis.