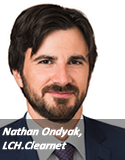 Regulators have had interest rate and credit default swaps in their sights ever since the financial crisis, and to an extent non-deliverable forwards. Inflation swaps though, have proved to be an afterthought when it comes to enforcing mandatory clearing.
Escaping the claws of regulatory reform for now, the bilaterally traded product will continue to exist in an uncleared market. However, other regulatory factors could begin to push the buy-side towards clearing the products despite having no obligation to do so.
Margin requirements for uncleared derivatives are set to sky rocket from September 2016 onwards, forcing the market to reconsider their use of OTC derivatives. Central clearing also mitigates counterparty risk, while buy-side firms will want to avoid bifurcation on their books by clearing interest rate swaps and inflation swaps in the same place.
"It doesn't make sense for a firm to bifurcate its book by clearing interest rate swaps and inflation swaps at different CCPs," explains Nathan Ondyak, head of products and markets, SwapClear, LCH.Clearnet. "A firm would typically clear as a package through one CCP."
Avoiding this bifurcation will be extremely important to pension funds because most of their liabilities are inflation-linked.
Under the European Market Infrastructure Regulation (EMIR) though, pension funds have been classed as exempt from clearing mandates. Could inflation swaps be the products to draw them into clearing then?
Terence Nahar, senior investment manager at Aberdeen Asset Management, believes so. 
"At some point, when the exemption runs out, pension funds will have to start clearing their swaps. When they do chose to, they will want to have an ability to hedge real rates, so just hedging interest rate swaps at a different venue to inflation swaps doesn't make any sense," he says.
The ability to clear inflation swaps came to the fore on 1 April 2015, when European regulators authorised LCH.Clearnet to offer clearing services for the products.
Europe's biggest CCPs raced towards gaining approval to clear interest rate and credit default swaps, capturing the headlines as the authorisations rolled in. In the background, LCH.Clearnet prepared its inflation swaps clearing service to complement the interest rate segment.
"We did quite a bit of an outreach to the buy-side community, there is a perception that it is all LDI funds but you do see a decent amount of other participants out there," Ondyak adds.
"Those customers [pension funds] have a longer delay before they are obligated to clear, but in general they all realise they are going to have to clear at some point."
"We maintain a healthy dialogue and did quite a bit of an outreach to the buy-side community. There is a perception that it is only LDI funds that are interested in inflation swaps clearing but there is also significant appetite among a number of other participants out there," Ondyak adds.
"Those customers [pension funds] have a longer delay before the implementation of the clearing mandate, but in general they realise they are going to have to clear at some point and are preparing accordingly."
A viable option
Following the regulatory clearance and launch on 1 April, the first cleared inflation swap took place between Barclays and JP Morgan, with 11 members live and clearing trades from the outset.
At the time of writing LCH had increased the number of market makers to 17.
For the buy-side, the number of market makers and dealers involved in the marketplace is steadily increasing and with it the liquidity.
Once more members are connected in and clearing it is likely the buy-side will enter the space. Ondyak believes July 2015 will be the date the buy-side really get onboard.
"For us, that is the real buy-side 'go-live' date. If you are a client, the whole point of clearing is that, in the event of a default, you don't have to close out your position, you can port them across to someone else. So as a client you need at least two of your clearing brokers to be live," he continues.
"Depending on a client's risk preference they may want three or more clearing brokers in place. We will expect to have a number of clients clearing after that date."
Eurex joined LCH.Clearnet in being approved to clear the products this week, after receiving approval from its domestic regulator BaFin to begin offering the service.
So efficiencies through clearing rates and inflation swaps on the same venue justifies the use of this service. With rates clearing penciled in for late 2016 after a string of delays and uncertainty, will the buy-side begin clearing inflation swaps ahead of this date?
Getting priorities straight
 "Two months ago they started offering inflation swaps to clients. Before then I don't think any pension or insurance companies would go down the central clearing route, now it is becoming more viable I would say. But this is very client specific," says Nahar. 
"A client that would sit on a large eligible collateral pool, might be willing to consider clearing early, partly because of Basel III on the bilateral side. The liquidity in the bilateral space is reducing, as it is with all asset classes. As it is with any asset where a bank performs an intermediation function, the liquidity is shrinking. It is just a reflection of the higher capital that they need to hold against any trade.
"Given that there is a wider product suite available with clearing houses and given the fact that bilateral trading isn't necessarily the cheapest alternative anymore for certain clients, I would expect to see some clients begin clearing in the next six months or so. But again, it is very client specific."
Commenting on the LCH.Clearnet's announcement, Simon Wilkinson, head of LDI funds, Legal & General Investment Management, reiterated that "risk management is a top priority for fund managers", suggesting a trend towards central clearing earlier than the mandates.
"Central clearing significantly mitigates counterparty risk and we welcome industry moves to provide clearing services for inflation swaps," he added. 
At this year's Euroclear Collateral conference, the buy-side contingent during a clearing panel seemed pretty set on their stance of not clearing until they have to.
What's the point?
An audience response showed that while 42% believed the benefits of cleared derivatives are clear and have a very positive impact, 29% said they had no plans yet and only 14% see the shift from uncleared to cleared derivatives to represent a 50% change for their business.
"We don't see the use of doing cleared derivatives at the moment," said Roelof van der Struik, investment manager at Dutch hedge fund PGGM.
Van der Struik added that his firm was "positive that it will be a very beautiful thing coming" but he said he was "a bit worried about the benefits".
Another buy-sider added that the buy-side "don't have the luxury to build models around a hypothetical landscape that could be around in five years time". 
So will inflation swaps be considered for mandatory clearing somewhere down the line?
The European Securities and Markets Authority will end up assessing the products and their viability for clearing in due course but with IRS, CDS and FX at the top of its priority list there could be a long wait.
Ondyak says that LCH.Clearnet do not want regulators to rush to a decision on making the products subject to mandatory clearing.
"We have been public in recommending a material delay before they are considered for mandatory clearing," he explains. "It is not something we are pushing for or even see on the horizon in the near future."
"This is a healthy way to launch the product. Our service is based on customer demand and bringing inflation swaps clearing to market without a mandate lets the service we are offering stands on its own merits.
"Let's see how it develops, how margin levels look, how the risk is concentrated, what place the cleared and uncleared markets have – standalone or together, let's then review this A few years down the road, it may be pertinent to review the market and consider a mandate."