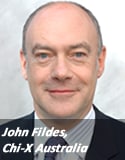 Last week's cash market report from the Australian Securities Exchange (ASX) appears to show a sharp decline in dark pool volumes following new rules on price improvement introduced at the end of May by the Australian Securities and Investments Commission (ASIC).
Greg Medcraft, the chairman of ASIC, had given a hint during a speech in Sydney at the beginning of June that dark pool volumes were already showing signs of falling.
The cash report states that during the week ended 24 May 2013 there was A$1,448.3 million of off-market recorded volume, compared to A$999 million in the week ended 7 June 2013.
In the week preceding the rule change, 11.9% of that business was done on ASX CentrePoint and 1.7% via Chi-X's mid-pegged order type. Those percentages went up to 15.9% and 2.4% respectively in the week ending 7 June 2013.
The rules governing Australian dark pools changed on 26 May. The new rules demand price improvement for orders below block size so that trades must be crossed at the mid-point or improve by a full tick. This excluded many dark trades previously were permitted to be executed at the NBBO (best bid or offer), leading to predictions that some dark pools would witness a drop in volume, with a simultaneous shift of equity market liquidity to lit venues and mid-point crossing services.
Speaking before the rule change came into effect, John Fildes, CEO of Chi-X Australia, said: "I think that the volume of trading in dark pools will decrease and volume of trading on the lit markets increase. I think we will also see greater usage of ASX's CentrePoint, and hidden orders on Chi X."
This week, Fildes noted that volumes in its Mid integrated order type had "grown substantially" over the last few days.
ASIC has said that it will continue to watch dark pools and monitor price improvements, and may introduce additional regulation. It has also clarified that it would not proceed for the time being with implementing a trigger for a minimum size threshold for dark trading.