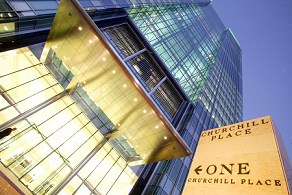 Barclays has announced an agreement to lease its 10 South Colonnade site in Canary Wharf to the Cabinet Office, saving the bank £35 million a year upon completion.
The 540,000 square foot location is in addition to two buildings that Barclays currently occupies in Canary Wharf - 1 Churchill Place and 5 North Colonnade – the former of which is the Bank's global headquarters.
Leases on the sites are due to expire in 2032, although the agreement to sub-let the location is expected to close by the end of 2017.
Barclays said no employees would lose their jobs as a result of the agreement and those working in the location will exit the site on a phased basis.
The British bank recently completed the sale of its Singapore investment management unit as part of its cost saving strategy.
The sale of the unit was initially announced in April this year after Barclays claimed it was no longer central to its core strategy.
The bank is aiming to reduce risk-weighted assets to £23 billion in 2017 and will reintegrate the remainder of the unit back into the group, according to the bank's CEO Jes Staley.