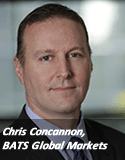 BATS-owned FX trading platform Hotspot is to launch a London matching engine this year.
The acquisition of Hotspot FX from broker KCG Holdings was announced in January and completed earlier this month.
BATS hopes to emulate its success with its European equities exchange BATS Chi-X Europe in the FX market.
"This project is important for our current – and future – customers as it gives BATS a larger footprint in the leading trading centre in the FX world," said Chris Concannon, president of BATS.
"As home to more than 50% of currency trading globally, and growing, the European market is a top priority for the Hotspot team. BATS already operates Europe's largest equities exchange and we have similar ambitions for Hotspot in FX."
Hotspot already operates a matching engine in the New York area and the new matching engine will help meet demand in Europe and Asia. It will be based in the London Slough Campus data centre.