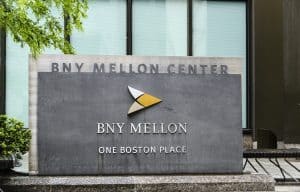 US investment bank BNY Mellon has expanded its real-time electronic messaging function for exchange-traded fund (ETF) order taking to improve transactional practices for trading participants and market makers.
BNY Mellon said in a statement that over the past several months it has made several changes to its ETF order taking service, including an integration of Bloomberg's BSKT negotiation tool for fixed income, and custom order approval for portfolio managers.
The latest update saw a new global standard introduced for clients that are transmitting creation and redemption orders via a proprietary electronic message structure, which supports all order types in all domiciles where BNY Mellon provides ETF services.
"We are excited to advance our suite of order management solutions and better service the rapidly growing ETF industry by offering a global standard for electronic ETF order placement," said Jeff McCarthy, CEO of exchange traded products at BNY Mellon. "Our infrastructure supports primary market dealing automation and STP through the ability to interact with both liquidity providers and third-party primary market dealer platforms."
BNY Mellon added that the upgraded ETF order taking capabilities provide benefits in terms of greater speed, mitigated risk by removing manual entry within the bank's ETF order taking portal, and by providing direct connectivity to liquidity providers and third-party platforms.
Gary Buxton, EMEA ETF COO at Invesco, commented: "BNY Mellon's enhancements across primary market dealing has enabled Invesco to leverage our proprietary primary market dealing platform across our entire European ETF fund product suite-enabling straight-through-processing across order entry, portfolio manager approval, reconciliation and share issuance."
Research published earlier this year from Greenwich Associates suggested that buy-side and sell-side trading practices currently used to trade ETFs are limiting growth in the industry. The firm said that many institutional investors, equity broker-dealers and market makers currently deploy the same methods for trading ETFs as for equities, but this often leads to sub-optimal executions.