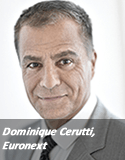 Euronext CEO Dominique Cerutti is to step down in July, the exchange operator has announced, to take up a role as Chairman and CEO of technology consultancy Altran.
Cerutti, who joined NYSE Euronext in 2009 as deputy CEO, became CEO of Euronext when it was spun out by new owner Intercontinental Exchange (ICE) last year.
Following the demerger from ICE and NYSE, Cerutti oversaw its IPO and, when he spoke to The TRADE last year, outlined a strategy to grow the business to compete with its larger rivals LSE and Deutsche Boerse.
Rijnhard Van Tets, chairman of the supervisory board of Euronext, said: ""Dominique Cerutti successfully navigated the company through its complex separation from IntercontinentalExchange to its subsequent IPO in an extremely short timeframe and positively repositioned the group as a leading independent exchange in Europe.
"Since its IPO, investors have supported the strategy and the management team, resulting in a twofold increase of the valuation of the company."
Cerutti will leave the business on 15 July and the Euronext Board said it has begun the process of searching for a successor to ensure a smooth transition.