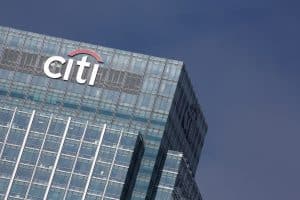 Citigroup is looking to centralise and automate its foreign exchange post-trade processes by expanding its partnership with shared ledger technology specialist Cobalt.
The investment bank has confirmed it will use Cobalt's FX infrastructure based on shared ledger and advanced technology for bilateral trading, to create a standardised record of all trades that clients can manage from a single platform. 
The immutable dataset for FX transactions will free up post-trade resources for Citi by automating and matching all versions of a trade into a single 'trusted copy', removing the need for multiple layers of reconciliation. It will also serve to reduce costs for the bank, with Cobalt previously stating that it has generated more than 50% in costs savings for clients across the FX lifecycle from analysis of the trade data. 
"Cobalt's platform will help make the processing of FX trades more efficient and automated, supporting dynamic distribution and optimisation of credit lines and delivering benefits to the control environment," said Itay Tuchman, global head of FX trading at Citi. 
Citi joins Deutsche Bank, XTX Markets and Saxo Bank on the Cobalt platform, all of which confirmed they had gone live with the service in September. At the time, Cobalt said it was working with more than 20 major financial institutions, many of which are being onboarded to the post-trade infrastructure.
"The two biggest business issues banks face today are managing risk and the scaling of their business with the rise of smaller tickets," Russell LaScala, co-head of global FX at Deutsche Bank, also said at the time. "Cobalt's solution ensures we can reduce operational risks associated with legacy systems and slash the cost of processing tickets for our entire FX business using a single platform."
Citi has worked with Cobalt for several years, and became one of the first clients of the company following a strategic investment in late 2016. Cobalt said that following the expanded partnership, Citi will remain an investor and shareholder. 
"We are pleased to welcome Citi, one of the largest bilateral FX trading participants. They join major FX institutions, including prime brokers and the largest non-bank liquidity provider, among others, showing Cobalt's breadth of offering across the FX market," Darren Coote, CEO of Cobalt, concluded.