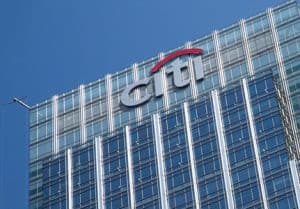 Citi has made a strategic investment in an electronic trading technology startup for fixed income and derivatives markets, The TRADE can reveal.
TransFICC, which specialises in low-latency connectivity, has secured funding from Citi and has become the first external company to join the investment bank's Innovation Lab in London.
Citi launched its London-based Innovation Lab in February, supporting the bank's markets and securities services business globally with a focus on building out new technologies including data science, visualisation and high-performance computing.
"Our Innovation Lab enables external firms to work alongside Citi engineers under the same roof, helping to build London's innovation ecosystem," said Stuart Riley, global head of operations and technology for markets and securities services at Citi.
"TransFICC's approach to continuous delivery and high-performance messaging, combined with its innovative business model for capital markets FinTech makes it a good fit for the Lab."
Focused on resolving issues of market fragmentation, TransFICC launched in 2016 with an application programming interface (API) system for banks and asset managers, which provides financial institutions access to various e-trading venues, while reducing costs and streamlining technology.
One of the major barriers to accessing new venues in fixed income, with currently more than 200 venue APIs in the market, is the time and costs of coding, according to TransFICC founder, Steve Toland.
"TransFICC removes this as an issue, encouraging increased efficiencies for our clients, and facilitating increased integration of new venues. By working with Citi, we'll build an even better understanding of the banks' requirements as we continue to build out our product," Toland told The TRADE.
Judd Gaddie, co-founder of TransFICC, added that fragmentation in fixed income and derivatives markets is a significant and growing issue.
"We have built a technology solution, which addresses an industry level problem, as dealers seek to cut their costs and improve efficiency, whilst still needing to access numerous pools of liquidity. We look forward to working with Citi, as our new shareholder, and leveraging their industry knowledge to build out our future strategy," Gaddie said.