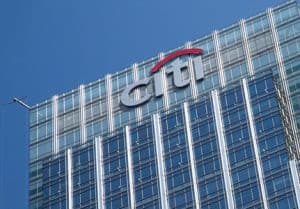 Citi has been the named the top fixed income dealer for the fifth year in a row by Greenwich Associates, where it has now held the longest winning streak among global investment banks rated by the research firm.
The annual survey polled close to 3,500 institutional investors globally and deciphered the results which ranked Citi top in rates and emerging markets, municipal bonds, overall quality, sales quality, trading quality, and e-trading market penetration. It was also ranked second in credit markets.
"Key to our success is the long-term and trusting relationships we have with all our clients, and our ability to align our efforts across the globe. As the fixed income market evolves, we will continue to adapt and work relentlessly to deliver the level of service our clients have come to expect," said Jim O'Donnell, global head of investor sales and relationship management at Citi.
According to Citi's fourth quarter results, revenues from its fixed income trading desk surged 49% to $2.9 billion – more than double the estimate predicted by analysts – due to strong performance in rates and spread products. 
Earlier this year, Greenwich Associates ranked Citi second for market share in the European fixed income market, behind JP Morgan for 2019. 
"The bank's five-year reign as the share leader is now tied for the longest winning streak. Its success is well deserved given the unwavering commitment to delivering terrific client service," said Frank Feenstra, head of markets division, Greenwich Associates.