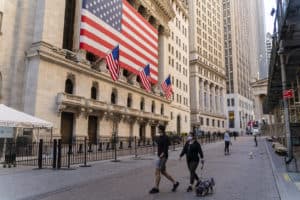 US derivatives exchange CME Group reached a new record daily volume for SOFR contracts on 25 February as the market continues its migration away from the Libor benchmark.
The exchange recorded 265,511 SOFR futures contracts on 25 February, marking a significant increase from the previous record of 240,288 set on 19 November last year.
"We are pleased with the growth of our increasingly robust SOFR futures market, as well as the continued development of the overall SOFR ecosystem at CME Group," said Agha Mirza, global head of interest rate and OTC products at CME Group.
"This SOFR milestone coincides with strong participation in our Eurodollar futures and options, which traded 14 million contracts yesterday, the highest volume since the Fed's emergency rate cuts in March 2020. Going forward, we remain focused on providing our clients with the broadest array of cost-efficient, short-term interest rate products they need to manage their risk."
SOFR is an alternative to the Libor benchmark, which the market is currently transitioning away from after years of market manipulation.
In November last year, the ICE Benchmark Administration (IBA) unveiled plans to consult on its intention to cease publication of a majority of Libor interest rates including sterling, euro, Swiss franc, and Japanese yen after 31 December at the end of this year.
In response to the market migration, CME Group has been expanding its SOFR derivatives offering in recent months, launching SOFR swap futures from Eris Innovations in October last year.