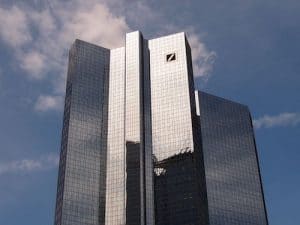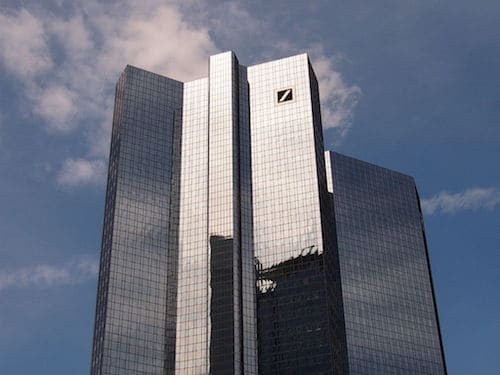 Deutsche Bank and Commerzbank have officially confirmed that talks are being held to explore a potential merger between the two German investment banks.
In brief and separate statements released over the weekend, both institutions said that they have agreed to start conversations about a possible tie-up after months of speculation about a merger. However, both banks reiterated that reaching a deal cannot be guaranteed.
"There is no certainty that any transaction will occur," Deutsche Bank said. "In this context we confirm that we are engaging in discussions with Commerzbank."
The bank added that the talks follow "arising opportunities" which led the management board of Deutsche Bank to review its strategic options while it remains focused on growth profile and profitability.
Deutsche Bank's share price rose 3.3% in early trading in Europe this morning following the news, while Commerzbank saw its share price increase more than 6%. In a memo sent to employees, Deutsche Bank's chief executive Christian Sewing wrote that the company is assessing the role it wants to play in consolidation in the German and European banking industry.
"Our stated aim remains to be a global bank with a strong capital markets business – based on a leading position in our home market in Germany and in Europe, and with a global network. This is what our clients expect from us," Sewing said.
Critics of the proposed merger have argued that combing the two struggling institutions would only create a larger problem for the German banking industry.
Both Commerzbank and Deutsche have faced significant financial difficulties, with Deutsche Bank only recently swinging into profit after reporting its first full-year net profit of €1.3 billion since 2014. Similarly, Commerzbank's net profit surged from just €128 million in 2017 to €865 million throughout the course 2018.
"What is also important to me is that we will only pursue options that make economic sense, building on the progress we made in 2018," Deutsche Bank's chief added. "That is why we, the management board, will review the options that present themselves to us carefully. It is our responsibility and it is our duty.
"In doing so, we will keep the interests of the bank and all of our stakeholders in mind. At this point in time, there is no certainty at all that any transaction will materialise. Experience has shown that there may be a lot of potential economic and technical factors that could hinder or prevent such a step."