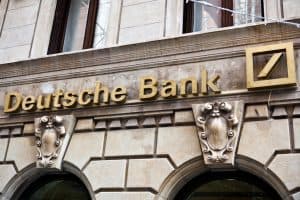 Deutsche Bank has confirmed that its president and head of corporate and investment bank, Garth Ritchie, will depart the company after 23 years amid continued troubles for the institution. 
In a statement, Deutsche Bank said that Ritchie is leaving the bank by mutual agreement and will step down from his responsibilities on 31 July to ensure a smooth transition of UK regulatory issues such as Brexit, which he will continue to advise the bank on until November.
Deutsche Bank CEO, Christian Sewing, will assume responsibility for the corporate and investment banking business on the management board, with plans to announce a new leadership team in due course.
"Garth Ritchie has been a life-long employee of Deutsche Bank: highly engaged and committed and loyal to the firm. I would like to thank him personally for his excellent cooperation and partnership through his career and over the past 15 months as my deputy," Sewing, commented.
The senior departure follows news of Deutsche Bank's plans to reduce its workforce by a substantial 20,000 or around half of its entire investment banking division. At the same time, the bank reportedly held talks with Citigroup and BNP Paribas about the sale of its equities business, including parts of the prime brokerage business. The restructure is expected to cost Deutsche Bank up to €5 billion.
Ritchie, a 23-year Deutsche Bank veteran, first joined the institution in 1996 as an associate in Johannesburg before taking on various leadership roles within the investment banking division.
In 2009, he was appointed head of equities and became a member of the global markets executive committee. By 2017, Ritchie was promoted again to lead corporate and investment banking at Deutsche Bank as co-head, a year before he was named sole head and president.
"[Deutsche Bank] is a remarkable institution and it has been a privilege to work here. I look back on my career with pride," Ritchie commented.
"I took over the leadership of the investment bank at a very challenging time, and over the past three years we have made significant progress to improve and stabilise its financial metrics. I believe the bank is now ready for further transformation, and it is the right time for new leadership to take the division forward."