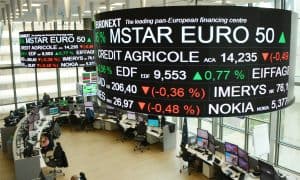 Euronext has increased its stake in Norwegian stock exchange and national CSD operator, Oslo Børs VPS, from 49.6% to 50.6%.
The move is a precursor to a full acquisition bid from Euronext, valued at NOK 6.24 billion (€625m), comprising an all-cash offer for the outstanding shares in Oslo Børs VPS, at NOK 145 per share.
In a statement from Euronext, should a bid for Olso Børs be accepted, the pan-European stock exchange operator "would be fully committed to support the development of Oslo Børs VPS and of the broader Norwegian financial ecosystem."
"Exceeding the 50% of total outstanding shares threshold shows the interest from Oslo Børs VPS shareholders for Euronext's offer to be launched, satisfying one of the conditions required for its completion and strengthening Euronext's confidence on its successful outcome. In this end, Euronext will continue to feed into a constructive dialogue with all Oslo Børs VPS stakeholders," Euronext said in the statement.
The move for Oslo Børs VPS follows on from its acquisition of the Irish Stock Exchange, now operating as Euronext Dublin, earlier this year.
Euronext posted revenues of €157.3 million for Q2, an increase of 14.6% year-on-year, while its half-year 2018 revenues were €304 million, up 15.2%.
The improved performance was attributed to the addition of new business lines and revenue diversification from Euronext Dublin, as well as the migration of Euronext's cash market to the new Optiq platform, launched in July.
Earlier this month, Euronext also acquired a
78% stake in Commcise
, a Software as a Service (SaaS) provider of research evaluation and commission management solutions for financial services firms, for an initial cash consideration of £27 million.