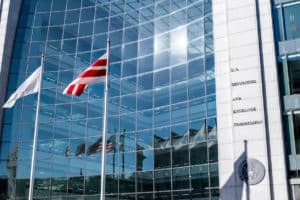 The Securities and Exchange Commission (SEC) has charged HSBC Securities and Scotia Capital for widespread and longstanding failures to maintain and preserve electronic communications.
HSBC and Scotia both acknowledged that their conduct violated recordkeeping provisions of the federal securities laws and agreed to pay penalties of $15 million and $7.5 million, respectively, to settle the charges.
The SEC's investigation found that both firms had used off-channel communications for a longstanding period, with HSBC and Scotia both admitting that employees frequently communicated "off-channel" about securities business matters on personal devices using messaging platforms such as WhatsApp.
According to the SEC, neither firm maintained or preserved the substantial majority of these communications, in violation of the federal securities laws. Employees at multiple levels of authority were involved in the failings, including supervisors and senior executives.
The SEC stated that both firms cooperated with its investigation by self-reporting the recordkeeping failures after gathering communications from the personal devices of a sample of the firms' personnel.
Alongside the financial penalties, both firms were ordered to cease and desist from committing violations of the relevant recordkeeping provisions and were censured.
"Today's actions should not only remind firms of the importance of following SEC recordkeeping requirements, but also the value of disclosing violations when they do occur," said Gurbir S. Grewal, director of the SEC's division of enforcement.
"Both HSBC and Scotia Capital self-reported and self-remediated their recordkeeping violations, and the reduced penalties in these cases reflect their efforts and cooperation. As we continue our efforts to ensure compliance with the Commission's essential recordkeeping requirements, we encourage other firms to take note and likewise self-report."

Elsewhere, The Commodity Futures Trading Commission (CFTC) simultaneously filed and settled charges HSBC Bank USA, HSBC Securities and HSBC Bank for "failing to maintain, preserve, or produce records that were required to be kept under CFTC recordkeeping requirements, and failing to diligently supervise matters related to their businesses as CFTC registrants." The firms were ordered to pay a $30 million penalty.
"The Bank is pleased to put these matters behind us, and we appreciate that both the SEC and CFTC recognise our commitment to remediating our internal controls when needed.  In recent years, we have made significant investments in enhancing our compliance procedures and have worked diligently to maintain the highest standards for professional conduct throughout our organisation," a spokesperson for HSBC told The TRADE.
Scotia Capital did not respond to a request for comment at time of publication.