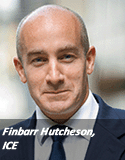 Intercontinental Exchange (ICE) will change the way it calculates the benchmark rate ISDAFIX by basing it on tradable quotes.
The changes are being made in an attempt to improve market confidence by aligning it with the International Organization of Securities Commissions' global principles.
The new methodology moves away from the submissions model, which led to manipulation of both the ISDAFIX rate and Libor rates.
ICE Benchmark Administration (IBA) took over ISDAFIX from the International Swaps and Derivatives Association in August 2014 along with Libor and has sought to reform the benchmark rates following the scandals.
ISDAFIX represents the average mid-market swap rates for three major currencies: euro (EUR), British pound (GBP) and US dollar (USD), at selected maturities on a daily basis.
Market participants use ISDAFIX to price and settle their derivatives contracts and as a reference rate for floating rate bonds.
"The new calculation methodology for ISDAFIX is an important step in ensuring market confidence in the integrity of the rate," said Finbarr Hutcheson, president, ICE Benchmark Administration.
"IBA is committed to providing independent and neutral benchmark administration services, in line with regulatory requirements, and to strengthening systemically important financial market benchmarks. We would like to thank the interest rate swaps community and ISDA for their work and support preparing for this important evolution."