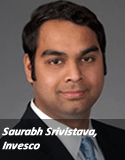 Invesco's global head of electronic trading, Saurabh Srivastava, has left the firm after almost two years in the role.
Srivastava stepped down at the end of 2014, a spokesperson for Invesco told The TRADE. He joined Invesco in February 2013 from Credit Suisse, where had served as director of its Advanced Execution Services division for five years.
Prior to joining Credit Suisse he worked as an associate for Morgan Stanley Electronic Trading.
During his time at Invesco, Srivastava had focused on the development of proprietary trading algorithms for the global asset manager to help reduce its reliance on the sell-side for automated trading tools.
Invesco said it has no plans to directly replace him and has a solid four-person team in place working on electronic trading research and development, though it may add additional resources in the future.