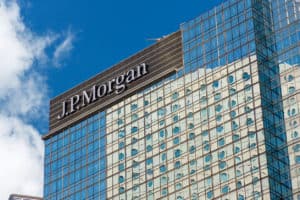 JP Morgan has reported strong first quarter results in spite of a decline in investment banking and markets revenues, topping overall expectations amid the rising rates environment.
The bank saw net income reach $12.62 billion this quarter, up 15% on Q4 of last year and up around 50% in comparison with the first quarter of 2022.
The increase gained little help from a relatively flat quarter in JP Morgan's corporate and investment bank (CIB) division, while banking income declined 1% to $4.2 billion on the back of a 24% drop in investment banking revenues.
Markets revenues reached $8.4 billion, down 4% year on year on the back of a 12% decline in equity markets revenue. Fixed Income Markets revenue was flat at $5.7 billion, which the bank said reflected higher revenue in rates and credit and lower revenue in currencies and emerging markets.
"Markets revenue fell 4% versus a very strong prior year, and we focused on supporting clients as they navigated volatile market conditions," said JP Morgan chairman and chief executive officer, Jamie Dimon in a statement.
"Global investment banking fees remained challenged for the industry, although we significantly outperformed the overall wallet."
Elsewhere, the bank – true to predictions – has made provisions for almost $2.3 billion in credit losses, up from around $1.5 in the first quarter of last year, suggesting an expectation that the economy will slow later this year.
"The storm clouds that we have been monitoring for the past year remain on the horizon, and the banking industry turmoil adds to these risks," Dimon said.
"The banking situation is distinct from 2008 as it has involved far fewer financial players and fewer issues that need to be resolved, but financial conditions will likely tighten as lenders become more conservative, and we do not know if this will slow consumer spending. While we hope these clouds will dissipate, the Firm is prepared for a broad range of outcomes, and we are confident that we can serve the needs of our customers and clients in all environments."