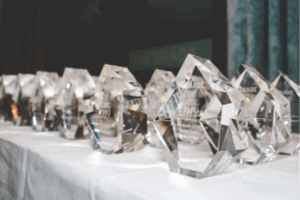 The TRADE is delighted to announce the shortlisted nominees for this year's Algorithmic Trading Awards 2021.
After a successful Leaders in Trading: The Digital Experience (LiTDX) earlier this year, The TRADE's flagship awards night returns to The Savoy in London on 4 November.
The winners of the Algorithmic Trading Awards will be based on performance in The TRADE's Algorithmic Trading Survey 2021, conducted earlier in the year. Eight categories across Best trading performance, Best access to market, Best price improvement capabilities, Best FX capabilities, Best large-cap provider, Best ETF capabilities, Best dark pool capabilities and Overall outperformer will be announced at the Leaders in Trading 2021 awards ceremony.
Visit our event page for more information.
Best trading performance:
Berenberg
Exane BNP Paribas
Kepler Cheuvreux
Redburn
Best access to market:
Barclays
Bernstein
Exane BNP Paribas
Liquidnet
Best price improvement capabilities:  
Berenberg
Exane BNP Paribas
Kepler Cheuvreux
Liquidnet
Best FX capabilities:
Bank of America
Barclays  
JP Morgan
RBC Capital Markets
Best large-cap provider:
Berenberg
Exane BNP Paribas
Instinet    
Virtu
Best ETF capabilities: 
Berenberg   
Instinet    
Kepler Cheuvreux
Liquidnet
Best dark pool capabilities:
Barclays
Liquidnet
Redburn
Virtu
Overall outperformer:
Barclays
Berenberg
Bernstein
Exane BNP Paribas