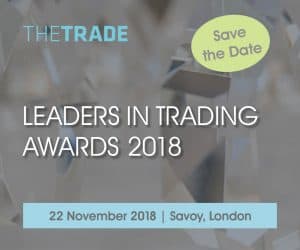 The TRADE is pleased to announce that it is extending industry voting for the Buy-Side awards for this year's Leaders in Trading due to the phenomenal response received so far.
Voting will now close on 9 November for the six categories, including trader of the year and trading desk of the year.
The overall winners of the Buy-Side awards, along with those for the Market structure excellence award and coveted Buy-side lifetime achievement award, will be decided by a judging panel composed of The TRADE editorial team, the London Stock Exchange and the Investment Association, taking into account industry nominations.
The winners in each category will be announced at the Leaders in Trading 2018 ceremony at London's Savoy Hotel on 22 November. 
The six categories listed below are open to industry voting, with over 800 submissions entered so far. 
Trader of the year (long only)
Yaz Arikan, Cedar Rock
Greg Dalley, Schroders
Cathy Gibson, Royal London
Neil Joseph, JP Morgan AM
Victoria Kelly, Fidelity
Nancy McCartney, BlackRock
Trader of the year (hedge fund)
Neil Bond, Ardevora
Rob Catterall, Man Group
Trevor Dobson, Marshall Wace
David Sutton, Citadel
Christine Majdalani, Sycomore
Gilles Stuttgen, Alken
Trading desk of the year
Amundi (Antoine Mathon/Gianluca Minieri)
BlackRock (Nancy McCartney)
DWS/Deutsche Asset Management (Vincenzo Vedda)
Fidelity Investments (Victoria Kelly)
Hermes IM (Dan Nicholls)
JP Morgan Asset Management (Neil Joseph)
Multi-asset desk of the year
Allianz Global Investors (Matthias Mueller)
Groupama AM (Eric Heleine)
SEB (Andreas Wollheim)
SYZ (Valerie Noel)
Unigestion (Stéphane Marie-Françoise)
Union Investment (Christoph Hock)
Mid-cap trading desk of the year
Invesco (Gordon Wood)
Janus Henderson (Brian Demain)
M&G (Dermot Dunphy)
Old Mutual Global Investors (Daniel Nickols)
Royal London AM (Henry Lowson)
Schroders (Andy Brough & Jean Roche)
Emerging market trading desk of the year
Amundi (Yerlan Syzdykov)
Barings (Simon Lashmar)
Invesco (Dean Newman)
Investec (Peter Eerdmans & Werner Gey van Pittius)
Janus Henderson 
Sloane Robinson (Jason Reeve)