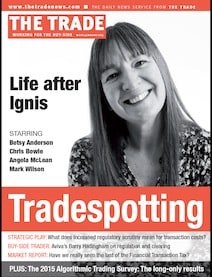 Standard Life's acquisition of Ignis Asset Management for £390 million last year proved to be a shrewd move for the Edinburgh insurer.
In its full year results, Standard Life was able to announce a huge rise in its net operating profit, at £517 million, up from £422 million in 2013.
While the acquisition has undoubtedly been a success for the insurance group, transforming it into a major asset manager, it has resulted in the loss of some exceptionally talented individuals including some much-loved, high-profile traders.
Until the summer of last year, Betsy Anderson had been working as the head of dealing at Ignis Asset Management. Anderson was a big part of the Ignis success story, having been solely responsible for establishing the equities dealing desk there.
Anderson was initially head of centralised dealing at Resolution Asset Management, which she joined in October 1999 with a brief to establish a centralised dealing desk.
From 1999, the centralised dealing desk had developed into a global equity, derivatives and treasury desk with multiple dealers, trading in a multi specialist environment.
Anderson's hand-picked team of individuals became recognised for their professionalism but known and admired for their corporate culture.
She was keen that all juniors felt part of the team and that they were able to grow in their role whilst honing their skills under the watchful eye of more senior dealers.  But she was just as keen that individuals took responsibility for their own actions. 
Ultimately, it's what made this particular bunch so sought when Standard Life confirmed it was going to disband the Ignis desk.
Anderson explains: "The entire equity floor left at the same time at the very end of August and we all kind of went our own way. 
"We were on different notice periods and some people took a wee bit of time to work out what they were going to do."
Post acquisition, Standard Life kept one original member of staff from the original Ignis desk, but the team need not had worried – they received plenty of work offers.
When the team was disbanded in August 2014, Raymond Connor, who had worked with Anderson as an equity dealer, was promoted to senior equity dealer on the newly integrated Standard Life Investments trading desk.
Connor had been with Ignis since 2002, having previously spent stints at Aberdeen Asset Management and Murray Johnstone.  He was also familiar with Standard Life Investments' culture, having worked there in the late nineties in its accounts team.
Others in the team, took the acquisition as an opportunity to pursue opportunities outside of the group. 
Among them was Angela McLean, who made the journey from Glasgow to London to join Nikko Asset Management, also as a senior dealer. 
McLean had spent nine years with Anderson and 14 years with Ignis and its legacy brands, trading derivatives, global long short equities and managing a number of portfolio monitoring responsibilities.
Her colleague Mark Wilson also stepped straight into a new role, joining fund house Artemis in London, a month after leaving Ignis. Wilson had spent eight years with Anderson, trading US, Asian and emerging market equities but also covering UK and European trades when required.
Anderson said: "A couple of the guys had a hankering to work in London. Angela [McLean] was always keen and ambitious. 
"Standard Life went through a very fair process and we knew the guys….. In the end Raymond [Connor] left our desk and went to them. I've known [head of trading] Jim Conway for forever and a day.  Yes, Standard Life is very culturally different but that difference isn't insurmountable.
"Apart from Raymond [Connor], nobody else in the team had any further interaction with Standard Life. For me, it was a huge opportunity to try something new."
Unsurprisingly, Anderson has had a long list of offers ranging from permanent roles to fixed-term and consultancy work across the UK.
She explained: "It is fantastic that people are contacting me about roles in the industry. Yesterday, a head-hunter came on, but I had to say while it would be exciting, I can't commit to a five day week in London at the moment."
Anderson is keeping herself busy with other things.
Since leaving Ignis, she has launched a new venture, pulling together many of the skills that she acquired during her time as the head of desk. 
Her new company – Mindfuse – offers executive and team coaching, business advisory and consulting services. She has already qualified as a Neuro Linguistic Programming practitioner and wants to put her qualifications, business acumen and understanding of stress-in-the-workplace to good use as a consultant.
She said: "I really understand our industry and the pressures that people face. You have no idea how helpful that is to be able to help from a coaching and consulting perspective."
Sharing expertise
Anderson says the current demanding regulatory climate means it is more important than ever that financial organisations have a corporate culture which is supportive.
She explains: "The biggest challenge for all companies, regardless of size or assets under management is regulation and compliance.  It's such a moving feast.
"While you may have processes that keep you on the right side of regulation, the regulator doesn't always provide prescriptive details on implementation and companies can have a hard time finding the most efficient way of being compliant.
"As a consultant, I can establish repeatable processes which can be held up as best in class so others can emulate them. It's about putting in a set of processes that can be rolled out and that's how you create a culture."
Building a culture
If there's one thing that Ignis Asset Management's former head of dealing knows, it is how to build a team culture. 
Betsy Anderson describes being asked to establish the centralised dealing desk as 'a stand out moment' in her career.
She explains: "I still look at myself and think how lucky I was.  The team was respected and successful.  What a treat it was to be able to make something from nothing and watch it grow.
"Our desk had a very clear culture. Everyone adhered to a set of processes and behaviours. It meant you didn't need to be on at them 12 hours a day. They understood the culture. They lived the culture. It was intrinsic."
Anderson's team was certainly a sociable one.  Each year, the company would hold a summer party for brokers and the team had got used to how duties were to be divided.
The team would be split into shifts.  Half of the team would travel down from Scotland in the 'advance party' that would be there to greet guests arriving early while the other half of the team – the 'reserve party' – would travel down after the markets had closed.
The advance party would then travel back on the Sleeper train to be back at work in time for when markets opened again and the other half of the team would stay out until the last broker stopped drinking.
For years it worked. That was until the British transport system had different ideas when they attempted to repeat this successful formula in 2010.
Anderson recalls: "I was in the reserve party and I was staying in Canary Wharf because I had meetings. I got a call at six in the morning from a colleague. He said 'before you think I'm winding you up, you have to listen…  We are on the train, but we're sitting in a siding and we are not going to be moving for the next four to five hours.'
"I said, you're joking. That means nobody is going to be on the desk first thing.  That was a disaster. I phoned Eddie at the airport, only for him to say the flight was cancelled. I couldn't believe it.  Apparently, there was fog in Glasgow."
Anderson says she suddenly realised that the unthinkable might happen – that markets open and there is nobody at the desk.
She called three of her executive assistants and asked them to get into the office immediately.
She recalls: "I just phoned and said 'whoever is calling, pick it up and transfer it to the London office'. I realised I had to get back into town [City of London]. I got the guy from IT to link me up and incredibly, it worked.
"When I did finally confess to Peter [Reid], he had no idea of what had gone on. However, we had to concede that we couldn't do it again – it was just too much of a risk. It was a great lesson and made you realise you have to remain in control."
Taking responsibility
In the trading community, the legacy of Ignis stretches far beyond equities.
The asset manager had permitted its credit portfolio managers to conduct their own trading.  Among them was Chris Bowie, the group's head of rates who had responsibility for some £14 billion pounds that the company had invested in credit. 
In the summer of 2014, Chris Bowie, left the fund group to join boutique fixed income manager TwentyFour Asset Management.
Like Betsy Anderson, Bowie also recalls a warm corporate culture at the Glasgow-based manager.
He said: "I had a brilliant ten years there.  I was originally based in Glasgow – the office was full of Glaswegians and their great sense of humour. I made a lot of life-long friends."
At Ignis, all credit portfolio managers had responsibility for their own corporate bond execution, something which Bowie fought for, despite the company's suggestion that a centralised desk would lead to better results.
He said: "We had a lot of pressure in 2005 and 2006 to move to a central dealing desk for credit, but we resisted.  Corporate bonds are OTC and are completely different.  There is no such thing as a 'right price' for a corporate bond.
"Simply by asking for a price, you can move the market so you have to be very careful about how you deal in credit.  I firmly believe that credit PMs should control it themselves."
In his new role as a partner at 24AM, he has maintained this standpoint and continues to do his own dealing – a view informed by his 23 years in the industry.
He said: "I think it is a source of alpha.  Not a huge amount, but every basis point counts.  If you look at the banks, they use their smartest people to do the trading and execution but if you look at the credit desks, it is often the more junior people with responsibility.  I think the banks have got it right.
"There have been times when I have not wanted to trade in the process of asking for a price. With OTC markets, you need to keep control of the dealing."
Keeping watch
To date 24AM has been cautious with the marketing of its corporate bond fund.  Bowie says he is very mindful of liquidity restrictions in the market currently and finds it difficult to understand peers who don't believe it to be an issue.
He explained: "2008 showed that you need to construct a portfolio with liquidity in mind. I am astonished when you get managers saying they have £18 billion in AUM and liquidity is not an issue.
"Regulators have not aided liquidity.  They are asking banks, quite rightly, to raise their capital ratios….but that has constrained the ability to warehouse and trade secondary corporate bonds.
"I am not trying to criticise the regulator, but that has been an unintended consequence of rebuilding capital ratios."
Away from liquidity, one of Bowie's projects at 24AM has been his investment in developing the group's in-house proprietary research database, Observatory.
The system stores every possible corporate bond that could be bought, together with key data sets on price history, sector trends, currency behaviour and ratings bands.
He says his time in the industry has altered his view on volatility and it has taught him to pay much more close attention to cash price volatility.
He explains: "My stock-picking approach is very similar to Ignis except I was able to develop more tools here. The small team means I can get stuff done from a systems perspective very quickly.
"I use the database as a screening tool.  It helps me pick stocks with good yields and spreads.  But when you throw cash price volatility into the mix, the database throws out those with the best risk-adjusted returns."
Subscribers to The TRADE can read the full version of this feature in the current issue. To subscribe, click here.