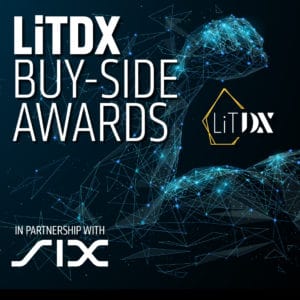 The TRADE is pleased to announce the shortlist for this year's Buy-side awards, in partnership with The Swiss Stock Exchange.
Voting is now open to the industry. Market participants are invited to vote for their winners across the six categories. Winners in each category will be announced during a special digital presentation as part of Leaders in Trading: The Digital Experience (LiTDX) on 26 February.
Shortlists were decided by The TRADE editorial team in partnership with SIX, who will both review the submissions and approve the winners in each category once voting has closed on 15 January.
Nominations are also now open for the LiTDX Rising Stars of Trading Execution. Now in its sixth year, the Rising Stars initiative celebrates the most promising up-and-coming talents in trading. 
LiTDX Buy-side awards shortlists
Trader of the year (long-only)
Kirstie MacGillivray, Aegon Asset Management (head of multi-asset dealing)
Odd-Magne Fosen, Norges Bank Investment Management (senior trader)
Paul Battams, BlackRock (head of EMEA equity trading)
Stéphane Marie-François, Unigestion Asset Management (SVP equities trading)
Tim Miller, Fidelity (equity trader)
Trader of the year (hedge fund)
Alex Jenkins, Polar Capital (head trader)
Gavin Murphy, Squarepoint Capital (head of EMEA high-touch trading)
Lucienne Lao, Boussard and Gavaudan (equity trader)
Neil Pickard, Man GLG (trader)
Richard Pearson, Eleva Capital (head of trading)
Trading desk of the year
Barings Asset Management, Louisa Paul
Capital Group, Simon Steward
Janus Henderson, Richard Worrell
Pictet Asset Management, Carl James
Schroders, Gregg Dalley
Multi-asset trading desk of the year
Candriam, Edouard Petitcollot & Fabien Oreve
Groupama Asset Management, Eric Heleine
Lombard Odier Investment Managers, Adrian Biesty
UBS Asset Management, Lynn Challenger 
Union Investment, Christoph Hock
Mid-cap trading desk of the year
AMP Capital, Dylan Kluth
Baillie Gifford, Adam Conn
Invesco, Gordon Wood
Jupiter Asset Management, Spencer Copp
Liontrust Asset Management, Matthew McLoughlin
Emerging markets trading desk of the year
Amundi Asset Management, Frédéric Pons
BlackRock, Kerry Barr
Comgest, Joseph Collery
PineBridge Investments, Chris Perryman
RBC Global Asset Management, Ross Hallam
Click here to vote for your Buy-side winners!
LiTDX will celebrate The TRADE's flagship Leaders in Trading awards ceremony like never before. Throughout the week of 22 February 2021, a sequence of specially produced, digital presentations will be launched for spectators to view on-demand.
Each day will be dedicated to recognising winners across the distinguished Leaders in Trading awards categories, including outperformers in The TRADE's 2020 Algorithmic Trading and Execution Management Systems (EMS) Surveys.
The full list of nominations across the LiTDX Algorithmic Trading, EMS, Editors' Choice and Buy-side categories are now live under the Awards tab on our event page.