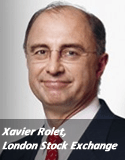 London Stock Exchange Group (LSEG) will offer trading in Turkish index and equity derivatives products in the second half of 2015 after signing a deal with Borsa İstanbul.
LSEG's derivatives market will offer trading in futures and options on the BIST 30 Index and on leading Turkish stocks, with the products cleared through LCH.Clearnet.
In addition, FTSE and Borsa İstanbul plan to launch an index partnership involving all Borsa İstanbul-owned and other relevant indices referencing Turkish securities, by the end of 2015.
"London Stock Exchange Group is the natural trading and index partner for Borsa İstanbul as the Turkish capital markets rapidly develop into a major regional financial hub, along side the Istanbul Financial Centre initiative," said Xavier Rolet, CEO, London Stock Exchange Group. 
"This agreement is an important step in the ongoing development of London Stock Exchange Derivatives Market, presenting our global client base with the unique opportunity to trade and clear Turkish futures and options in international markets."
Borsa Istanbul is due to be privatised in 2015 and has implemented new technology systems provided by Nasdaq, both of which will contribute to greater modernisation of the exchange and make it more akin to its Western European peers.
The Turkish government and Borsa Istanbul have a clear vision to establish Istanbul as an international financial hub, and ties with London are crucial to achieving their ambitious goals. The government is aiming for Istanbul to be a top 10 global financial centre by 2023.
The Turkish government also wants to improve the tax, legal and fiscal systems and create political and economic stability to attract the finance industry.
The country has recently introduced its capital markets law, which better aligns it with the MiFID standard across Europe and opens the door for both international investors to extend their reach to Turkey and for local Turkish institutions to invest in other parts of Europe.
"Turkey is currently one of the most exciting emerging markets in the world, and will be in a key position to help shape the global economic agenda, through its Presidency of the G20 in 2015," added Rolet. "With a near-trillion-dollar GDP, export-oriented economy, and dynamic corporations, its capital markets exhibit enormous potential."