As segmentation of order flow by trading venues accelerates, market participants are split on whether the practice would attract the buy-side, according to the latest poll on theTRADEnews.com.
When asked whether they would support exchange services dedicated to institutional investors 54.5% of respondents to September's poll voted 'yes'.
The poll question was prompted by an initiative from the New York Stock Exchange in the US to create a new section on its market dedicated to executing retail orders at a price better than the approved US national best bid or offer. Approved on a one-year pilot basis from 1 August, NYSE's retail segment creates a new class of participant on its market for those firms that service retail orders. A few weeks ago BATS Exchange lodged an application with the SEC to launch a similar service. On 20 September, NYSE announced it is seeking approval to launch a European version of its retail market in November.
MiFID heralded the creation of competing trading venues to rival domestic exchanges in Europe, but Peter Randall, CEO of Equiduct, a retail-focused investment exchange, questions whether the current market structure adequately meets the needs of all market participants.
"In the face of regulatory complexity it appears that some venue operators are voting with their feet and considering whether it makes sense to have specialised segments on exchanges," ex Chi-X Europe CEO Randall told theTRADEnews.com. "While the intention of MiFID was probably not to create specialist pools of liquidity maybe the protection of the retail investors isn't as good as various policy makers initially envisaged."
Others believe segmentation initiatives can offer a valuable service to the market, but have to be approached by regulators in a way that meets the needs of end investors.   
"There is market demand for these types of segmentation initiatives as they could level the playing field and open up a lot of new innovation among markets," said Christian Bower, commercial director at Quote MTF, a European trading venue that has recently launched QUBE, a hosting platform for alternative markets in Europe. "But the success of this depends on how you interpret the law, and ensuring policy makers take the approach that encourages inventive approaches within the current market framework."
Exchanges that have been forced to seek new business opportunities because of a depression in equity trading activity across the globe. Targeting retail flow, increasingly in recent years traded off-exchange and internalised by liquidity providers that serve retail brokers, is one obvious source.
But Randall suggests that this investment is being misplaced, with too much focus on revenue generation and not enough emphasis on long-term value.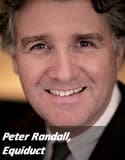 "What we haven't seen in the last few years is enough of a push by exchanges to encourage a healthy flow of IPOs, particularly given the rush to offer technology that suits high-frequency traders," said Randall. "Segmentation of order flow could be another step in that direction, i.e. seeking new revenue opportunities rather than something that would be of great benefit to the market."