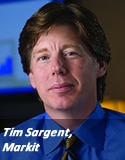 Financial data provider Markit will launch a 'trader dashboard' in the first half of next year to provide buy-side traders with streaming 'in-trade' decision support aimed at improving execution performance. 
Targeted at long-only investment institutions, hedge funds and some sell-side clients, the new tool will provide users with various triggers and data inputs to inform trading strategy and monitor execution performance, including streaming transaction cost analysis. 
The dashboard builds on both existing Markit financial data services and recently acquired capabilities including trading analytics specialist QSG, securities lending information provider Data Explorers and financial website developer Wall Street On Demand, acquired in 2010 and rebranded to Markit On Demand, which has created a commission management solution and broker voting service which allows buy-side firms to evaluate and vote on sell-side services, and allocate research commissions.
According to Tim Sargent, co-head of equities at Markit, the new solution represents a culmination of Markit's equity focused acquisitions. "Markit already offers a wide range of analytics to the trading community. From Q2, we will be delivering those analytics and metrics on a streaming, intraday basis to our existing clients. By integrating multiple signals on a single dashboard, we will provide the decision support that will help clients answer critical trading questions about how they trade and the footprint they leave in the market," he said. 
Sargent said that customisation of the dashboard is critical to its success. "We want to make it personal to the trader and the stocks that he or she trades. The dashboard has to reflect the dealer's specific experience, because some signals may not work as well for particular names or investment styles," he said.
In due course, the integration of real-time TCA, commission management and broker voting capabilities will also help traders to allocate business to brokers based on both execution performance and commission levels. "For the moment, we've focused on the surveillance and alert capability, over time we will integrate the voting and commission management tools," said Sargent.
Markit has been working with execution management system providers to secure the smooth flow of data between EMSs and the new dashboard. The launch of the new service will put Markit in competition with offerings such as UK agency broker and technology provider Olivetree's OTAS, which provides users with equity analytics and trading indicators to improve trading decisions.
Separately, Markit has appointed Jeff Gooch as chief financial officer, with Brad Levy replacing him as global head of processing and chief executive officer of MarkitSERV, the firm's trade processing platform for OTC derivatives. Gooch was previously head of global fixed income operations at Morgan Stanley.