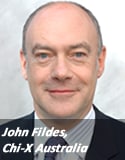 Initial reaction has been mixed following the publication of a new code of practice for clearing and settlement by the Australian Securities Exchange (ASX).
Last Thursday, ASX released the code of practice concerning cash equities in Australia. It will be effective from August 2013 and has been approved by the boards of ASX, ASX Clear and ASX Settlement and has been reviewed by the Council of Financial Regulators, a body comprised of Australia's main financial regulatory agencies.
Chi-X expressed its disappointment in the code.
"The code just tries to justify existing positions. It doesn't fulfil the Council of Financial Regulators' requirements for equal access," said John Fildes, the CEO of Chi-X Australia. "Chi-X is still required to go via Trade Acceptance Services (TAS) before getting through to the Clearing House Electronic Subregister System (CHESS). It isn't satisfactory, and it is a process we have complained about. ASX does not have to go through TAS. Chi-X is not happy about the terms of this code and will be taking it up with the council, the treasury and the competition regulators."
However, not all parties feel so pessimistic.
"The code provides welcome means for industry stakeholders to influence the ASX's governance of its clearing and settlement infrastructure," said David Lynch, the executive director  of the Australian Financial Markets Association. "For users, the mechanisms put in place around transparent pricing in the code are particularly important as a new tool for understanding how efficiently clearing and settlement services are being delivered."
AFMA thinks that the code will help to generate the evolution of the current equities clearing infrastructure in a way that  serves the entire market well.  
The new code sets out ASX's intention to establish an advisory forum. This forum will allow users of its clearing and settlement services to provide input to the boards of ASX Clear and ASX Settlement about development of the clearing infrastructure for cash equities.
It also sets out ASX's commitment to transparency about pricing and access to clearing and settlement services. ASX says it will publish fee schedules for all such services.
The draft code has been on the table since April 2013, following which a process of consultation has taken place. It followed a government announcement in February to defer a decision on any licence application from a central counterparty wanting to offer cash equities clearing services in Australia for a period of two years.
ASX Clear and ASX Settlement operate the only licensed clearing and settlement facilities for the Australian cash equity market.  In future they will obtain an annual survey from an independent consulting firm benchmarking the scope of the clearing and settlement services that they provide and the pricing and fees for those services, compared to similar offerings in other cash equity markets.