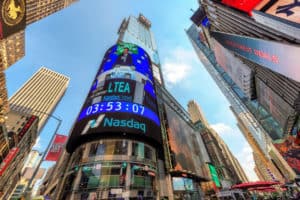 US exchange group Nasdaq and bond trading platform Trumid has teamed up to develop a solution for real-time US treasury hedging for corporate bonds.  
The new partnership will see Trumid's trading platform integrated with Nasdaq's fixed income technology and real-time execution as they look to simplify hedging processes with a single point of access for credit and rates via Trumid.
"By working together, Trumid and Nasdaq are providing market participants with a seamless, modern solution for real-time US treasury hedging and execution. We look forward to providing more details as this exciting project progresses," said Jason Quinn, chief product officer at Trumid.
Trumid's electronic corporate bond trading platform, Trumid Market Centre, provides market participants with direct access to anonymous and disclosed liquidity. Nasdaq will develop an integrated workflow tool to connect Trumid to US treasury liquidity.
The partnership with Nasdaq follows record total volume on Trumid's platform in April at the height of the market volatility amid the coronavirus pandemic.
The fixed income trading platform provider said a record 500 market participants traded on Trumid Market Centre totalling $23.4 billion in trade volume, up 500% compared to April last year.
Monthly volumes via Trumid's anonymous all-to-all trading protocol also exceeded the trailing 6-month average by 142%, alongside record user participation and order flow as April hit rates reached all-time highs. Trumid said the tool proved valuable to traders seeking liquidity and efficient execution.