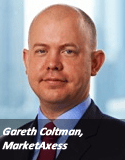 Over the summer, The TRADE has been gathering nominations to compile its first ever list of 40 individuals under the age of 40 that are most likely to enjoy notable career advancement in the coming years. 
The list of 40 was drawn up following extensive market research with industry leaders on the sell-side and buy-side and verified with interviews with employers and individuals to evaluate their credentials.
To qualify for consideration, individuals had to be aged under 40 years of age as at 31 December 2015 and be working in a trading function at an asset manager, wealth manager, stockbroker, technology group, or life company.
Consideration was given to each individual's day-to-day role in the business, career progression to date and involvement in industry initiatives.
Further credit was awarded for commendable extra-curricular activities such as examples of volunteer or mentoring work or for academic success in a professional examination scheme.
All those who made the list must be based in Europe, although they can trade assets globally After a lengthy judging process, our panel considered the following 40 people to be worthy of recognition. 
Name: Jonathan Finney
Job title: Equities trader
Company: Fidelity Worldwide Investment
Investment group Fidelity saw a strong number of rising star nominations for this year's inaugural scheme across all asset classes.
However, it was Jonathan Finney who stood out from the crowd due to recommendations and testimonials from the industry.
Finney has been with the company for nearly a decade, starting out at the group's London Cannon Street offices back in 2006.  
During his time with the business, he has traded European equities and handled options trades including index and single-stock option strategies in addition to a whole host of futures trades.
It is low-touch trading where Finney excels, with colleagues and industry figures alike both praising his commitment to research, training and data analytics. 
Finney has handled numerous projects at the asset manager ranging from regulatory implementation tasks to EMS testing.
He graduated from the University of York with an undergraduate degree in History in 2005.
Name: Jin Wong
Job title: Portfolio manager, rates and LDI
Company: Old Mutual Global Investors
Wong joined Old Mutual Global Investors at the start of 2015 as part of a new line-up on the fixed income, absolute return team. 
Wong now operates as a portfolio manager for rates and LDI in a team led by Russ Oxley, which supports the management of a new suite of fixed income absolute return products.
Old Mutual's rates team was one of the first backers of the new constant maturity swap futures launched by GMEX this year, with Oxley saying the products 'will more closely match our requirements than any other futures contracts currently available'.
He brought with him either years of experience in investment management to Old Mutual, with his most recent role at Ignis Asset Management as a Portfolio Manager in the rates fixed income team. 
Prior to joining Ignis, Wong spent the summer of 2006 working as an intern in the CEO Corporate Office of Allianz General Insurance in Malaysia. He was an intern in Technology Consulting at Deloitte Consulting in Malaysia during the summer of 2005. 
Wong holds a master's degree in Statistics from the University of Oxford and before that achieve first class honours in Actuarial Science from the University of Kent.
Name: Gareth Coltman
Job title: Head of product management
Company: MarketAxess
Gareth Coltman is one of a handful of technologists that has been instrumental in improving the search for liquidity for the buy-side.
BlackRock announced this year that it was extending its existing strategic alliance with MarketAxess with the launch of Open Trading for European credit.
Coltman has been key to the development of projects such as Open Trading, having joined MarketAxess in April 2014.
Over the past year, trading activity on the MarketAxess platform within Europe has grown substantially.  In the second quarter of 2015, volumes from European clients were up 44% year on year and Eurobond trading volumes were up 71%.
Coltman counts 'being at the cutting edge of market change' among his career aspirations and believes that more trust and accountability in the industry could ultimately lead to better self-regulation.
He is a keen traveller and recently hiked the Salkantay Trail to Machu Pichu in Peru.  He is also an avid motorcyclist and scuba diver.
Name: Russell Beer
Job title: Emerging Market Debt Dealer
Company: Aberdeen Asset Management
Russell Beer has been with Aberdeen Asset Management since the summer of 2009 moving to the emerging markets debt desk a year ago.
Having worked as part of the fixed income team (investment grade and high yield) for four years before that, he switched roles in September 2014.
Beer started his career at Credit Suisse Asset Management in a trade support role in October 2004, before being promoted to associate vice president in the funding and derivatives team 18 months later.  Having spent almost four years in the role, he moved to Aberdeen, initially as a liquidity controller.
Name: Tim Snelgrove
Job title: Head of trading
Company: RARE Infrastructure
Tim Snelgrove moved from Australia to London at the beginning of 2014 to set up RARE's local trading desk for Europe, US and Latin American markets.
The resulting changes to RARE's internal procedures and technology platforms led to a record level of executed blocks with a 20% increase in blocks over 1x ADV to 35% of total trading in 2014.
During the first half of 2015, Snelgrove led the design and implementation of a new commission management framework, which allowed the business to become fully unbundled from July. 
The process involved standardising rates, increasing commission sharing agreement (CSA) counterparties, setting fixed research budgets for the investment team and implementing a new CSA aggregator and broker tool.
Snelgrove also led a project to implement a new transaction cost analysis overlay to monitor and minimise costs from the company's FX hedging book.
Outside of work, he competed in the London Triathlon last year raising more than $1,500 for charity.
He holds a Bachelor's degree in Commerce (Liberal Studies) from the University of Sydney with a triple major in Accounting, Finance, Government and International Relations.