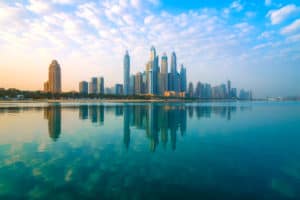 Futures brokerage RJ O'Brien has confirmed it has acquired an interdealer broker based in Dubai as it looks to expand its footprint and products in the region.
Lombard Forte Securities has been acquired by the RJ O'Brien Middle East and North Africa (MENA) affiliate, which RJ O'Brien established in 2018.
The interdealer broker specialises in cash equities, ETFs, equity derivatives, fixed income and structured products for hedge funds, asset managers and large investment bank clients globally. Terms of the deal were not disclosed.
"This acquisition of Lombard Forte aligns perfectly with our strategic goals of expanding our product offering into credit and equities markets, further building on our over-the-counter presence, and broadening our geographic reach into some of the most exciting emerging markets in the world today," said RJ O'Brien chief executive, Gerald Corcoran.
Lombard Forte founder, Kunal Savjani, has now been appointed senior executive officer of RJ O'Brien MENA, and global head of equities and credit sales for the wider business. Savjani founded Lombard Securities in 2012 before its partnership with Forte Securities to co-found Lombard Forte Securities in 2015.
"RJO's strong balance sheet, global presence and preeminent technology – which were key factors in our decision to become part of the firm – create a tremendous opportunity to bring new capabilities and levels of service to our loyal clients," Savjani commented.
"At the same time, our experienced brokers, significant trading activity and sophisticated clients will quickly propel RJO into a position as a major market player in the interdealer brokerage space. It's a testament to all parties involved that we have been able to finalise this transaction during such challenging times globally and a remote work environment."