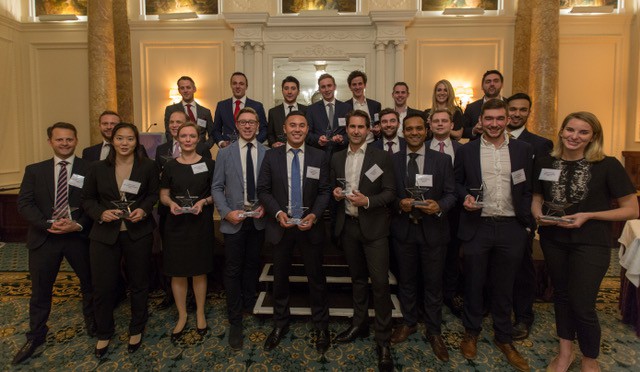 Tom Stevenson, equity trader, Fidelity International
Tom Stevenson was described by his peers as "ahead of the pack" and an "amazing dealer".  Having joined Fidelity in 2006, he quickly assumed responsibilities for trading the basic resources and TMT sectors. He began his career in 2004 as a portfolio manager for Barclays Wealth, and shortly after joined UBS as a collateral manager.  His role now involves maintaining strong relationships with specialist sales, traders and sales traders across the globe
Matt Wood, head of trading and research technology, Man GLG Partners
Matt Wood has applied his expertise in IT technology to GLG Partner's trading team since 2010. After becoming part of Man Group later that year, Wood continued as a risk developer and in 2014 was name head of trading and research technology in London.
Lindsey Read, equity trader, Goldman Sachs Asset Management
Lindsey Read did not begin her career in trading until three years after joining Goldman Sachs Asset Management in 2003. She started within GSAM's operations team in London, and then to portfolio construction in 2006. Soon after she moved to the trading desk as a junior equity trader, and 11 years later, has gained experience trading on behalf of fundamental and quantitative strategies. In September 2017 Read relocated to New York to become part of the central trading desk, covering a variety of products and investment management teams.
Tom Johnston, head of trading operations, GSA Capital
Tom Johnston has led the trading operations at GSA Capital, an absolute return quantitative investment manager with assets under management of more than $7 billion, for over two years. Initially joining as an operational analyst in 2011, he moved over to its trading operations business in 2012. Graduating with a first in international finance and capital markets from the University of Brighton, Johnston also holds a CFA Level 2 in investment practice.
David Ketley, head of dealing, Harmonic Capital
After joining Harmonic Capital, a $1.6 billion macro hedge fund, ten years ago as a senior FX and futures dealer, David Ketley has worked his way up the trading ladder to become head of dealing. He is responsible for all aspects of trade execution, as well as driving the overall strategy of the desk, including counterparty and venue selection, trade style, and pre/post-trade analysis. Ketley is also a leading figure within Harmonic's MiFID II working group.