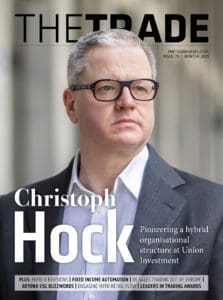 The Winter 2021 issue of The TRADE magazine is now available to read online. Explore the content of the latest issue:
Buy-side cover interview – Christoph Hock, head of multi-asset trading at Union Investment, sits down with Annabel Smith to discuss the European asset manager's new hybrid structure, regulatory divergence post-Brexit, the role of the trader in sustainability, and the token economy.
Dark trading: navigating a post-Brexit divergent world – Following the European Commission's recent changes to the MiFID II regulation, Annabel Smith takes a look at the UK and Europe's opposing approaches to dark trading and market transparency post-Brexit and the potential for a fragmented liquidity landscape.
Musical chairs and the world of US sales trading – Annabel Smith speaks with the intimate community that covers US equities markets out of the UK and Europe, exploring everything from execution and desk configuration to turnover and people moves. 
The TRADE announces Leaders in Trading 2021 Awards winners – Over 260 industry leaders gathered at The Savoy Hotel in London to celebrate their achievements throughout the year.
Rising Stars of Trading and Execution 2021 – Running for its seventh year, the Rising Stars initiative recognises the budding buy-side talents of the institutional trading space.
The TRADE's Crystal Ball 2022 – Gaze into our annual crystal ball with predictions from industry experts on what to expect in 2022 across the buy-side, sell-side, market structure, regulation, technology and more.
Retail flow: the new El Dorado for the buy-side? – Almost half of buy-side firms would like to engage with retail trading flow following a huge uptick in volumes.
Fixed income automation: gearing up for the primary markets – Competition in the new issuance technology space is increasing and the first steps to re-stitch the primary landscape will be to focus on automating manual processes and providing transparency, says Charlotte Decuyper.
From climate change to biodiversity: beyond the ESG buzz words – As COP 26 draws to a close and in a week where the first sustainability initiative in the trading space was launched, we look at the role asset managers can play in the climate emergency along with the standards and data needed to support the journey.
Markets veteran Duncan Higgins to launch industry's first trading focused sustainability initiative – The new membership network has already attracted buy-side firms and aims to address environmental challenges specific to trading firms through accountability to the wider industry and investors.
The pandemic has shaped a new normal in the trading space – With the buy-side becoming the centre of liquidity formation, the European execution landscape is being reshaped, writes Charlotte Decuyper.