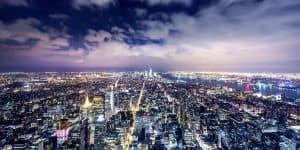 The global economy posted another solid year of above average growth in 2018, boosted by strong U.S. output that expanded at its fastest rate in over a decade. The Federal Reserve hiked three times, the U.S.-China trade debate emerged as a key theme for markets and Brexit negotiations remain inconclusive. So what's in store for the year ahead? As 2018 draws to a close, below are some of key 2019 forecasts from the J.P. Morgan Research team:
Global Growth – U.S. to Cool as Europe Bounces Back
After delivering its second straight year of above potential GDP gains, higher inflation and interest rates in 2018, growth in the global economy is set to ease off slightly in 2019. J.P. Morgan estimates the global economy will grow 2.9% in 2019, slightly lower than the 3.1% forecast for 2018.
China – U.S. – China Trade Tensions to Continue
Despite the tentative ceasefire, uncertainty remains high. Even with an agreement, negotiations will likely be bumpy and confrontations may intensify again, making the U.S.-China trade relationship a key driver of the Chinese equity market.
Global Rates – Four More Fed Hikes
Global growth is expected to become more synchronized and the Federal Reserve (Fed) will hike four times in 2019 according to J.P. Morgan forecasts.
For more 2019 forecasts visit:
https://www.jpmorgan.com/global/research/global-market-outlook-2019
SPONSORED BY