The Italian derivatives market has shown great resilience and growth in the last few years. 2018 is no exception to this.
Whilst trading activity in listed derivatives in Europe has been somewhat muted, IDEM's leading products are significantly up this year: the FTSE MIB futures and mini-futures are respectively up 12% and 20%, while FTSE MIB options are up 36%. In aggregate, IDEM has traded an average notional amount of €5 billion per day this year and reached an open interest of 5.9 million contracts at the end of August.
Local markets. Global attention.
We talk to a multitude of trading firms, brokers and investors around the globe and the need for diversification is emerging as one of the top themes. The constant increase of flow towards index-based products, particularly ETFs, creates more competition and drives the focus of active managers towards performance. Indeed, active management still represents about 75% of global assets under management. So, any change regarding asset managers' investment approach has a noticeable impact.
What was evident during the FIA's International Derivatives Expo in London this summer, where I chaired a panel on innovation and trends in derivatives, was the interest in local products and innovative solutions from Oslo Børs, B3, MEFF, London Stock Exchange and Susquehanna, a leading market making firm.
Growth. Diversification.
What is making the Italian market and particularly IDEM, its derivatives market, so interesting?
Last year Borsa Italiana saw one of its best years for IPOs with 39 companies listed. Amongst these was global automobile tyre maker, Pirelli, the biggest IPO in Continental Europe and the third biggest globally, raising nearly €2.4 billion. In 2018, the small and mid-cap sector achieved great momentum as proved by the growth of AIM Italia with 114 companies listed to date.
Italy is also interesting from a trading standpoint. The market has always been more prone to volatility bursts. The correlation of the FTSE MIB to the European benchmark has been 0.80 in the last couple of years while other indices such as the CAC40 or the DAX30 hover around 0.95. The FTSE MIB index is less correlated to European equity benchmarks and, therefore, an interesting source of diversification.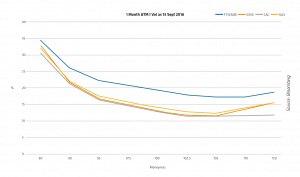 Liquidity. Dynamism.
Interesting fundamentals do not always lead to trading activity. Execution of strategies is key, liquidity is crucial. The Italian market does not lack this feature.
The underlying Italian equity cash market has a turnover velocity of 100%, amongst the highest in the industry. The IDEM is also supported by a network of over 20 market makers providing liquidity on a continuous basis and "on request" on all listed products.
New international clients are coming to the market directly or via our broker network: in fact, IDEM is one of the very few derivatives markets in Europe increasing its client base significantly in 2018. The dynamism of the order books and the overall interest of the end clients makes it an interesting business case. Borsa Italiana  was pleased to welcome Quantlab, Da Vinci Derivatives, ORA Traders and Finovesta to its equity and derivatives markets this year. This evolution enriches the already strong international community associated to the Italian market.
In addition, the Italian market is nurturing its strong roots in Italy. Indeed, IDEM is supported by a  healthy private investor community, which represents over 30% of its equity cash markets, according to Borsa Italiana estimates. The on-line brokerage community has been very influential in this success story and it is growing outside of the Italian borders. The "TOL Expo" organised at Palazzo Mezzanotte, the headquarters of Borsa Italiana in Milan on 24-25 October (borsaitaliana.it/tol) will provide good evidence of the dynamism of the retail sector in Italy.
Innovating for growth.
Thanks to a very active community of stakeholders and a strong partnership approach, we deliver innovation aimed at growing our markets. Many developments have contributed to improve the profile of the market but one worth noting is the extension of trading hours until 20:30 CET. We wanted to address the growing client demand from Italian retail investors willing to trade index futures in conjunction with the afterhours session on Italian shares. The change was also strongly supported by US trading firms and the international fund management industry. Two liquidity providers are actively market making the products and daily volume peaks well above 10% of total volumes on the FTSE MIB mini futures.
Whilst 2018 has seen continued growth, evolution and innovation in the Italia in market, we see no room for complacency and are committed to continuing to innovate and partner with stakeholders from across the community in 2019 and the years ahead.
SPONSORED BY