During times of uncertainty and whilst the "new normal" begins to find its feet, one thing remains constant in the pursuit of liquidity. The need for innovation through partnership. Providing opportunities to increase routing efficiency in the search for unique liquidity whilst maintaining a focus on utilising existing workflow practices is key to success. This is something we are very mindful of at London Stock Exchange Group.
The concept of "doing more with what you already have" has been well established over the past six months. It continues to hold true with new innovations such as Turquoise Plato Trade At Last™ on the horizon, utilising existing and much admired Turquoise Plato™ functionalities including Turquoise Plato Block Discovery™. It is through a similar partnership and working with the trading community including the Plato Partnership, Turquoise has brought to market a re-introduction of the Good-For-Auction (GFA) Order Type. This enhancement sits within the Turquoise Plato Lit Auction™ book (TRQA MIC) and brings investors, through member trading firms the sought-after ability to incorporate increased levels of urgency into frequent batch auction routing logic, significantly adding workflow benefit.
Mike Bellaro, CEO of Plato Partnership, says "the Turquoise Plato partnership has always centred on bringing forward innovation even in the most testing market conditions. While the COVID-19 pandemic has undoubtably presented significant challenges for the equities marketplace, it has also catalysed the implementation of new, technology-driven solutions to help improve the customer experience. Ensuring that we continue to innovate, even under the most trying circumstances, is crucial to continued success of the equities market more generally."
Released on 13 July 2020, the GFA order brings frequent batch auctions into more agile, opportunistic and liquidity seeking routing logic whilst preserving the demonstrable execution quality associated with Turquoise Plato Lit Auctions™. When sent to Turquoise Plato Lit Auctions™, a GFA order will either trigger a new auction event or join a live ongoing auction if it meets with suitable contra-liquidity.  If no suitable contra-liquidity is met, it will be cancelled immediately back to the sender. This increased efficiency in routing, effectively acting like an immediate-or-cancel order, allows brokers to now appropriately consider this liquidity channel into opportunistic and more aggressive routing behaviours.  
"Within the Turquoise Plato Lit Auctions™ Order Book, GFA Orders will only be accepted if upon aggression the auction generates an Indicative Auction Price and Quantity greater than 0 (zero) or when there is an auction in progress which has an Indicative Auction Price and Quantity greater than 0 (zero), else the GFA Order will be expired immediately."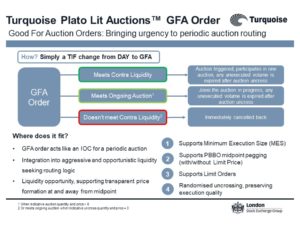 Patience is a virtue
Important to note, changes to the matching logic have been enabled to allow Pegged Orders which are routed to TRQA to be considered at their Limit Price. When they are not marketable at the midpoint of the Primary Best Bid and Offer (PBBO) it brings a new and incremental liquidity dynamic to the book.   Where possible, such price forming limit orders which otherwise would not have been available to trade, can rest in TRQA ready to interact with appropriate GFA limit orders which are able to trade beyond PBBO.
Patient limit order flow can take this ideal opportunity to rest whilst interacting with new and incremental GFA orders. This dynamic becomes even more appealing when considering the breadth and depth of stock universe covered by Turquoise Plato Lit Auctions™. This is especially true as you move into less liquid securities.  In these cases, prevailing Primary Market spreads may be wide and the opportunity to find contra resting liquidity with a new faster moving Periodic Auction order type such as GFA adds genuine value and potential cost saving.
Mike Bellaro says: "one of the greatest hurdles for traders to overcome is sourcing liquidity. GFA is already providing market participants with a strategic means to find new liquidity and tap into the potential of an ever-wider pool."
In June, TRQA was active in symbols of 17 countries across Europe, with trades >€500,000 executed across 10 different countries. This extensive stock coverage comes with the average trade size being 3x that of average lit venues across Europe (€10,225 in June).   This is combined with the fact that only 0.02% of total activity occurred when the same counterparty was present on both sides of the trade with same order size and receipt within a 100ms period.   TRQA therefore is not only truly multilateral in nature but also for all trade sizes.   Proactively choosing to rest limited order flow within the service as well as continuing to route to existing mid-pegged functionality, significantly increases the overall liquidity proposition offered through Turquoise Plato Lit Auctions™ with the benefits associated with accessing unique, quality and multilateral flow. 
No need to compromise
As a venue which can offer access to unique liquidity with minimal impact, fig.2 demonstrates the case that there need be no compromise on size of a quality fill. In this particular example (Dixons Carphone Plc, traded 5 June 2020), Turquoise Plato Lit Auctions™ was able to execute over £500,000 within a minute whilst the underlying price on the primary market remained stable. Also demonstrated is the way in which TRQA can be used complimentary to non-displayed functionality within Turquoise Plato Block Discovery™ where significant block fills above LIS were also executed through Turquoise. The re-introduced GFA should only serve to increase such complementary examples through enhanced opportunity as described. Providing choice of execution channel, both lit and dark allows for multiple liquidity seeking strategies deploying differing tactics to achieve the common goal of sourcing liquidity in the pursuit of Best Execution.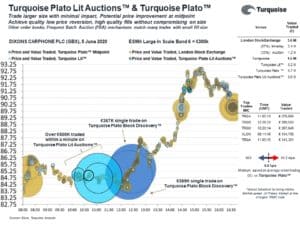 Matt McLoughlin, Partner & Head of Trading at Liontrust, says that, "as an asset manager, I have always been committed to the idea that technology is what drives innovation and increases efficiency within firms. Liontrust has long used a range of Turquoise Plato™ products to enable better execution of trades and garner access to deeper pools of liquidity. We are very excited to see GFA come to the platform, not least because of how easily it slots into our existing infrastructure."
Turquoise members can therefore use this new GFA order proactively to search for liquidity within Turquoise Plato Lit Auctions™ with absolute minimal latency. They will also subsequently achieve an improved risk return profile when seeking unique liquidity across the European market landscape. The use of price limits when sending GFA orders further enhances the TRQA proposition as a highly efficient destination in the search for liquidity both at and away from midpoint. All that is required to access this functionality is a simple change in the Time In Force (TIF) from DAY to GFA.
SPONSORED BY