We're one year into MiFID II. How would you assess the first year?
David Howson: Overall, I would say it was generally a smooth implementation and I think the market has adjusted quite well. Market participants and regulators are now looking at how the market has evolved, analysing data and fine-tuning their strategies and the regulation where needed.
From an equities market perspective, block trading has clearly been one of the winners under MiFID II. Whilst MiFID II has been a significant amount of work, particularly for the buy-side who have increased responsibilities under the regulation, many of the new trading venues such as the Large-in-Scale (LIS) platforms, periodic auctions and systematic internalisers are really designed to help market participants trade with as minimal market impact as possible. We view this as a positive development for the market overall, particularly the buy-side community, as innovation is solving a marketplace challenge. It's great to see the marketplace evolve and transform to meet the needs of investors.
What is driving the increase in block trading this year?
DH: With MiFID II's double-volume caps on dark pools and elimination of broker crossing networks, there is a reduced number of venues that provide low market impact. This really set the stage for an increased adoption of LIS platforms. However, we've seen strong demand for many years from the buy-side across Europe for LIS trading services. As market participants take a data-driven approach to analysing their executions, I think the data for block trading venues, such as Cboe LIS, is telling a positive story of low market impact and larger trade sizes.
Since we launched Cboe LIS two years ago (December 2016), we've continued to see average trade size of more than ¤1 million alongside very strong overall growth. We set a new record in October this year with ¤8 billion in notional traded on the platform, an increase of nearly 33% over our previous record month. This is a testament to the positive response we've seen from our clients who appreciate the diversified liquidity, protections from information leakage and easy-to-use nature of the platform.
Cboe teamed up with BIDS Trading to launch Cboe LIS. What has been the biggest benefit to customers of that partnership?
DH: The BIDS team has been a fantastic partner and we've worked hard together to grow Cboe LIS. We've really leveraged each other's strengths, combining Cboe's infrastructure and post-trade connections in Europe with BIDS' software and channel distribution amongst the buy-side community. The combination of these strengths has created a seamless workflow for both buy-side and sell-side users and I think that has really set Cboe LIS apart from other Large-in-Scale trading platforms.
BIDS has a long history of deep and extensive relationships with the buy-side. They have spent years integrating their BIDS Trader system into buy-side order and execution management systems and now have a presence on buy-side desktops across the globe. This integration creates a seamless workflow experience for the buy-side trader and doesn't require them to significantly adjust their strategies for executing their trades.
We also value BIDS' broker-neutral model that allows buy-side traders to maintain their important broker relationships.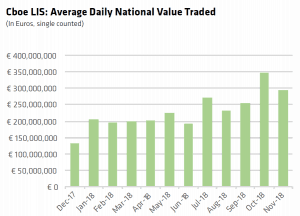 Why do you think Cboe LIS is seeing such strong adoption?
DH: I think we've really struck a chord with market participants, particularly the buy-side who appreciate they are able to maintain control of their Indication of Interest (IOI) up until the point of execution when they turn it over to their designated broker. As the designated brokers are responsible for executing and clearing the trade on our exchange, our broker-dealer customers play a critical role in Cboe LIS.
Additionally, given that Cboe LIS is open to both buy-side and sell-side firms with order flow from Europe and the U.S., we see diverse liquidity that allows firms greater crossing opportunities. We continue to have a strong pipeline of new customers that will further diversify this order flow.
Ultimately, it's all about listening to our customers and working with them to innovate and solve marketplace challenges.
What concerns are you hearing from buy-side about the current state of the market?
DH: Of course, Brexit is a top concern. And overall, while MiFID II has been a lot of heavy lifting for the buy-side, generally they are pleased with the innovation and new entrants into the market that are really solving their marketplace challenges.
Also, many buy-side firms we speak with are also very concerned about review of the tick size regime and the potential elimination of mid-point trading. They realise the value in trading at the mid-point. We believe that for all sizes of orders, mid-point should remain a valid execution price, on both trading venues and systematic internalisers and we will continue to lobby that point with regulators and politicians.
What's next for Cboe Europe?
DH: Along with the rest of the market, we're focused on executing our Brexit strategy. Moreover, we'll continue to work with market participants and regulators as they fine-tune MiFID II. We believe it is critical for regulators to take an evidence-based and data-driven analysis when reviewing market structure. 2019 is shaping up to be a busy year. 
SPONSORED BY