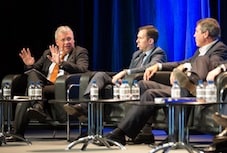 The double caps on dark pool trading, set to be introduced as part of MiFID II, may not function, MEP Marcus Ferber has admitted.
Speaking at TradeTech in Paris today, Ferber, who was the special rapporteur for the European Parliament during MiFID II negotiations, said the caps, proposed by the European Council, were a political compromise and "In my personal opinion the double cap will not function".
The caps on dark trading, set at 4% for individual venues and at 8% for the European market as a whole, have been one of the most controversial aspects of MiFID II, with many industry leaders criticising them as being arbitrary limits that are not based on scientific evidence.
Ferber added that a lack of data had been a major issue when setting calibrations for MiFID II. "Market Participants now need to think about how they can deliver the data we need to make MiFID II work. Right now a lot of core data is missing because EMIR has been delayed."
Mark Hemsley, CEO of BATS Chi-X Europe, said the industry is starting to get organised to provide more data to regulators, "We're now using the market model topology to identify the different forms of OTC transactions that take place so we will have the data the European Securities and Markets Authority (ESMA) needs."
However, some initial analysis by the London Stock Exchange (LSE) revealed the caps could begin impacting a significant number of stocks from the moment MiFID II is introduced in January 2017.
"Our analysis suggests that, among the FTSE 100, 28 names will be above the cap just based on use of the reference price waiver," explained Brian Schwieger, head of equities at the LSE. "However, when we add in the negotiated trade waiver, all but one of the FTSE 100 will be unavailable to trade in the dark from January 2017, and among the FTSE 250 it is more than half."
LSE has been working to educate clients on the use of the negotiated trade waiver, particularly looking at cases where a different waiver could be used, which might help lessen the frequency with which certain names breach the caps.
Per Loven, head of international corporate strategy for EMEA at Liquidnet, said the way the waivers are calculated also needs to be rethought.
"Large in scale should be more dynamic and related to ADV and ADT. These measures are readily available and used by traders every day so we should be using them as a way to more accurately calculate the large in scale waiver based on how a stock is trading at any given time, rather than using fixed thresholds," he said.