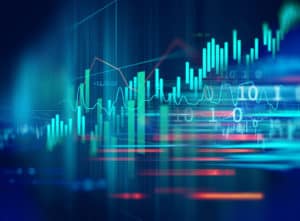 Electronic trading platform Tradeweb recorded its 22nd consecutive year of record revenues in 2021, as total revenue increased by 20.6% to $1.1 billion compared to 2020.
The record year followed a fourth quarter which also saw increased percentages compared to the prior year period. This included a quarterly revenue of $276.9 million, which was a 18.8% increase from 2020, as well as an average daily volume of $1.1 trillion for the quarter, which was an increase of 24.1% compared to prior year period.
However, in the fourth quarter of last year, Tradeweb saw a decrease in net income by 9.7% to $60.0 million compared to prior year period due to higher tax expense.
In contrast, Tradeweb's adjusted net income for the fourth quarter, $99.7 million, was an increase of 23.9% compared to the same period in 2020.
In terms of the breakdown of revenues, Tradeweb's rates, credit, equities, money markets and market data all saw increases in Q4 of last year.
Rates performance was led by record activity in swaps and US government bonds, with the latter aided in part by the acquisition of NFI. Meanwhile, credit performance was increased due to robust trading in US credit and supported by strong growth in European credit. Elsewhere, increases in equities revenues reflected increased adoption of RFQ for electronic trading in ETFs worldwide.
Looking at Tradeweb's full year results, its record total revenue of $1.1 billion was driven by average daily trading volume of more than $1 trillion.
In addition, the firm's net income increased by 25.1% from $218.4 million in 2020, to $273.1 million for the year ended 31 December 2021.
"We became the largest electronic trading platform for US Treasuries, and as rates volatility increased we benefited from a global resurgence in swaps market activity on our platform," said Lee Olesky, chief executive of Tradeweb Markets.
"In credit, we continued to grow volume and market share, extending our industry leadership in electronic portfolio trading and reflecting strong client demand for both traditional RFQ and increased automation… While increased adoption of electronic trading has been a long-term trend in recent years, we saw a clear acceleration of that trend during 2021. Looking ahead, we believe markets will continue to benefit from growth in electronic execution and digitised workflow."
Following 2021's record performance, 2022 already appears to be shaping to be another strong year for Tradeweb, with January 2022 figures showing a total trading volume of $22.3 trillion. In addition, average daily volume for the month was $1.12 trillion, an increase of 7.6% year-over-year.