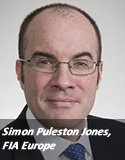 European regulators have granted pension funds a two-year exemption from new mandatory central clearing rules for OTC derivatives.
The European Commission cited a lack of solutions from Europe's clearers as being behind the delay. 
A report from the Commission found that clearing houses must be granted additional time to facilitate pension funds and to provide solutions for them. 
"Commissioner Hill's suggestion of a two-year exemption from mandatory clearing for pension funds is a pragmatic one, given that there are a number of challenges specific to those end users," said Simon Puleston-Jones, CEO of FIA Europe. "It is important to discuss and agree proportionate solutions for them, given the unique challenges that pension funds present, not only for themselves - such as them not holding cash or liquid assets in high quantities-  but also the regulatory capital implications for clearing brokers who are clearing for pension funds.
"Given that pension funds tend to enter into long-dated and directional positions, they have a significant impact on the clearing broker community from a regulatory capital perspective, which is pension funds may find access to clearing challenging under the current set up."
Under current pension scheme arrangements (PSAs), funds would have to source cash for central clearing. However, given that PSA's hold neither significant amounts of cash, nor highly liquid assets for collateral, the Commission believes that imposing the clearing requirements on them would have required them to carry out far-reaching and costly changes to their business model.  
According to the report, it estimates the costs for pension funds would range from €2.3 billion to €2.9 billion annually and the expected impact could be up to 3.66% over 20-40 years on retirement incomes across the EU.
The report sets out a number of ways to facilitate central clearing for pension funds, including allowing non-cash assets to be used as variation margin, using quad-party collateral which would allow PSAs to use securities to cover margin calls without having to transform them into cash.
The Commission added that this could give rise to significant drawbacks because non-cash assets have lower liquidity, wider spreads, and will affect the pricing of derivative contracts. 
It also highlighted how PSAs could increase their use of agency stock lending and securities lending to enhance returns and tap additional pools of cash, which they currently have limited access to. However this would require significant commitment from a custodian or central securities depositary (CSD). 
In addition, the report stated UK and EU PSA's will not be able to rely on the government repo market, as they could have to create a cash buffer to cover the shortfall of the market. Furthermore, the Commission doubts the repo market could meet the liquidity demands of the PSAs in times of stress. 
"Today's report sets out a number of potential ways to facilitate central clearing for pension funds. But none of them is straightforward and it is sensible to take more time to develop a solution which is proportionate," says Jonathan Hill, EU Commissioner for Financial Stability, Financial Services and Capital Markets Union. 
Under the European Markets Infrastructure Regulation (EMIR), the first clearing requirement for interest rate swaps comes into force in the second quarter of this year for category 1 firms such as banks and brokers. Category 2 firms, such as large asset managers, won't be required to clear until January 2016.