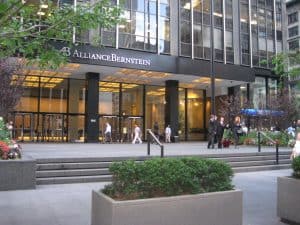 Alliance Bernstein (AB), the New York-based investment manager with $742 billion in assets under management, has brought on board Noel Blanchard to develop an active exchange-traded business as its first ever global head of ETFs and portfolio solutions.
Blanchard joins from State Street Global Advisors, where he was formerly global head of product, and has previously held senior roles at BlackRock and Vanguard, giving him ETF experience with all three of the big issuers.
Reporting to Onur Erzan, AB's global head of client group, Blanchard will be tasked with managing and developing a new set of active ETFs for the firm, with the first expected to hit the US market later this year.
It's a big step for an asset manager that has long resisted the lure of ETFs, and the news has not gone unnoticed. "One of the few remaining ETF holdouts of note, AB, has just hired a global head of ETFs," tweeted Ben Johnson, director of global ETF research at Morningstar.
"Noel's a great pick," added Paul Kim, CEO at Simplify ETFs.
AB launched its first active ETF in Australia in April 2021, and according to Erzan, now plans to accelerate its ETF adoption in other regions.
"Establishing the firm's first-ever global head of ETFs and portfolio solutions role and adding Noel to the team creates an opportunity for AB to generate an innovative and differentiated offering in a crowded space," said Erzan. "We are confident that Noel's leadership will be instrumental to the success of not only our ETF business, launching later this year, but also our broader portfolio solutions including next generation SMAs and model portfolios."