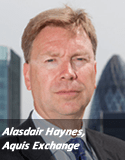 Aquis Exchange has launched a new order type to enable firms to execute at auction prices without paying the associated fees.
The Market at Close (MaC) order-type enables firms to enter orders that will match the closing price of the market of listing's end-of-day auction.
End-of-day auctions account for approximately 20% of all European trading and Aquis said fees can typically be 50-100% higher during auctions than they are during continuous trading.
The MaC order is intended to help market participants reduce costs and create some competition for trades at auction prices, which tend to be exclusive to incumbent national exchanges.
It will also not be subject to restrictions on the use of reference price waivers as part of MiFID II and meets all other pre- and post-trade transparency requirements.
Alasdair Haynes, CEO of Aquis, said: "While MiFID I paved the way for new venues to compete against the trading monopolies held by national exchanges, the closing auctions had remained virtually unchallenged.
"Through the highly sophisticated, but simple-to-use, technology of MaC, Aquis Exchange has for the first time opened the closing auctions up to competition. This is another innovation from Aquis Exchange that will improve the marketplace as a whole and yield major cost savings for our members."
He added that the initiative has been supported by the buy-side, naming Legal and General Investment Management as one of its supporters.
Aquis will be offering the order type for no additional cost to its top-tier subscribers.