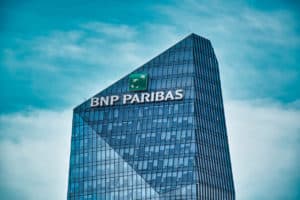 BNP Paribas has released its 2022 earnings, reporting a net income of €10.2 billion, an increase of 7.5% compared to 2021.
Revenues at the bank soared to €50.4 billion, up 9% on the previous year.
In Q4 2022, revenues jumped 8% compared to Q4 2021, to reach €12.1 billion. In the bank's operating divisions, revenues increased by 10% compared to the fourth quarter of 2021.
Corporate and institutional banking (CIB) saw revenues increase by 18% compared to Q4 2021, driven by strong performances across its global markets (+24%), global banking (+15%) and securities services (+13%) businesses.
Global markets revenues saw the sharpest increase, totalling €1.7 billion in Q4 2022. Fixed income currencies and commodities (FICC) revenues almost doubled (+45%) to €1.1 billion, compared to Q4 2021, attributed by the bank to strong increases in demand for rate and forex products, emerging markets and commodities.
However, client demand on the equity markets was less favourable, particularly in derivatives. Equity and prime services declined by 3.4% compared to the fourth quarter of 2021, totalling €563 million.
BNP Paribas' CIB division achieved a pre-tax income of €952 million, down by 5% compared to Q4 2021.
Overall, the division saw a strong increase in revenue, year-on-year, up 16% to €16.5 billion compared to 2021.
"BNP Paribas achieved a very good performance in 2022. On the strength of these results, the Group has revised its objectives upward in all three pillars of its GTS 2025 plan," said Jean-Laurent Bonnafé, director and chief executive of BNP Paribas.
"We are setting ambitious financial targets and pursuing our technological advances. We are strengthening our commitments to a sustainable economy and are entering a new phase of acceleration in financing the energy transition. I would like to thank BNP Paribas teams in all its entities for their constant presence at the side of our clients, who are increasingly numerous in placing their confidence in us."