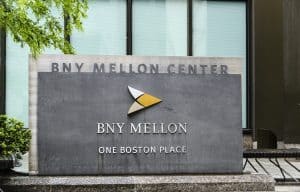 BNY Mellon has appointed a head of digital in a newly-created role as the bank seeks to build a global team focusing on technologies such as machine learning and artificial intelligence.
Roman Regelman will join BNY Mellon on 17 September as a senior executive vice president and head of digital, reporting to chief executive Charles Scharf. He will also join the bank's executive committee.
In the new role, Regelman will be responsible for setting the direction of BNY Mellon's digital future, the bank said in a statement, and investing in client and internal technologies including data management, analytics, artificial intelligence, machine learning and robotics.
He will also build a new global team across the company, developing and attracting top digital talent as BNY Mellon implements new technology strategies.
"BNY Mellon is looking at new ways to provide services to our clients and drive dramatically improved quality and efficiency," Scharf commented.
"Regelman is a digital transformation expert who will enable us to be bolder in our approach and more consistently find better solutions for our clients. He is passionate about finding new ways of working, and his deep knowledge of the financial services space will help us accelerate our growth."
With more than 25 years' experience, Regelman is considered an industry expert on digital, operations and management consulting. He has launched several FinTech companies, joining BNY Mellon from Boston Consulting Group where he co-led the financial institutions digital business.
In July, BNY Mellon recruited a head of strategy in a newly-created role in a bid to regain the top spot of the global custody rankings. Akash Shah joined BNY Mellon from global consultancy firm McKinsey, and is responsible for developing and implementing long-term strategies and shaping external partnerships.
The decision to appoint a new head of strategy followed news that BNY Mellon had lost its position as the world's largest custodian to State Street, a position it has held for three consecutive years.
Since joining BNY Mellon in the summer of last year, Scharf has highlighted a number of new strategic goals, including a greater focus on winning exchange traded fund (ETF) mandates, increasing investment in technologies, and providing enhanced collateral management and FX products.