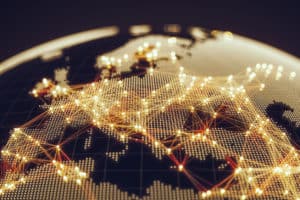 Global infrastructure and connectivity provider BSO has gone live in Bergamo, Italy, in its latest move to expand the coverage of its low-latency network in Europe.
Through the expansion of BSO's network into Bergamo, businesses can now co-locate or directly access exchanges that are based in the region.
It highlights the impact of Brexit on the markets, with several stock market operators and exchanges in Europe confirming plans to transfer their trading platforms out of the UK and into other areas throughout the continent.
"BSO is perfectly aligned to support traders' transitions when exchanges relocate within Europe. Market demands continue to grow post-Brexit, and it's vital that HFTs, banks and brokers work alongside experts able to create solutions that meet the detailed and specific needs of their business, providing the latency, resilience and security they require; regardless of location," said Tony Jones, head of low-latency strategy at BSO.
Alongside the physical relocation of the data centres housing these trading platforms, a technical migration for the banks, high-frequency traders and brokers which make up their customer bases will also be required as well as low-latency connectivity with the Bergamo site.
The development follows several other expansive moves by BSO in the last year as it looks to grow its remit both in Europe but also globally.
In the last few months, it upgraded its route between Shanghai and London and Hong Kong and Tokyo, later adding Singapore to this list to provide new and existing customers with improved connectivity between what it described as equities and FX hubs.
Earlier in the year, Borse Frankfurt partnered with BSO to upgrade its market connectivity, allowing clients to trade with other markets faster, including Istanbul, Moscow and Hong Kong.