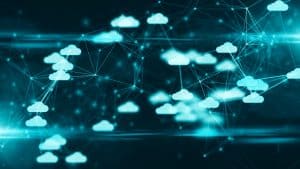 Asset managers based in Europe and North America are increasingly seeking cloud technologies to manage the onslaught of data, according to a survey from IHS Markit.  
IHS Markit's research, conducted by WBR Insights, of 100 buy-side representatives with $10-100 billion in assets under management found that cloud adoption has reached a tipping point on the buy-side, with 80% of firms stating they will use cloud for data management by the end of 2020.
The results revealed that 52% of investment firms currently use cloud for data management, and a further 28% have plans to migrate data management to the cloud over the next 18 months. Almost half of firms also confirmed that they have outlined plans to establish a data warehouse within two years, as the buy-side continue to manage regulatory reporting requirements.
"The survey results demonstrate that we have reached a tipping point for cloud adoption among the buy side as it fast becomes the default deployment option for firms with $10-100 billion AUM," said Andrew Eisen, global head of EDM and thinkFolio at IHS Markit.
"Firms cite the ability to offload administrative burdens (42%) as the biggest benefit of moving to the cloud. It is therefore no surprise to find that respondents see the most value in moving application management to the cloud. This finding also reflects how thinking around the cloud has evolved beyond infrastructure."
IHS Markit's survey also found that variations in the ways that asset managers store, structure and aggregate data for reporting, with 39% using multiple marts and spreadsheets. Data transparency is also a challenge for firms using data for decision-making, reporting, regulatory compliance and communication.
"As firms adopt more complex operating models in response to these issues, many realise it is unsustainable to rely on disparate systems and spreadsheets for data management; these types of set-ups will never provide a comprehensive, trusted view of a firm's operations and performance. As a result, buy-side institutions are investing in the latest data management technology to deliver timely, trusted, accurate and consistent data," Eisen concluded.