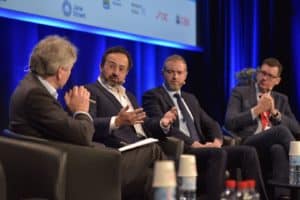 The sheer magnitude of trades and markets that buy-side desks are participating in is forcing the need for artificial intelligence (AI) and predictive analytics, according to AXA Investment Managers' global head of trading.
Speaking at TradeTech Europe, Daniel Leon, who also heads up securities financing for the French asset manager, said the firm has to invest in new technologies because traders simply cannot keep up with the amount of information required across its ever-increasing volumes of trades.
"We are not able to do what we used to do 20 years ago," said Leon. "Yes you can have a specialist on leverage loan, you can have that, but on the big credit market or medium and small-cap you cannot have all that information in one guy.
"We are trying as well to solve problems that we used to do a long time ago. For the more vintage traders – I started on FX options desk in charge of research – it used to be that the trader would know the market and what's traded for one month, what happened last week, they had information and that's what typical trading used to be.
"But now we have to gain efficiency, we have to trade so many bonds that you can't ask one trader to remember everything to know that this sector last week had this event. We have to reconstitute is the experience that the trader used to have. What has traded, what was the liquidity and what was the market impact. You can't do that on a comprehensive basis."
It's been widely accepted that AI and machine learning technologies have the potential to fundamentally improve trader performance, whether it's now or in the future.
A poll during Leon's panel however, showed that 62% of traders are currently not engaged directly in the use of AI tools.
On a recent webinar with The TRADE, Ashwin Venkatraman, global head of equity trading automation and execution at JP Morgan Asset Management said the use of AI on trading desks should ultimately be geared towards providing as much relevant and condensed information as possible to the trader.
During a buy-side keynote interview at this year's TradeTech conference, Supurna VedBrat, the global head of trading at BlackRock, also said that while gaps in liquidity present issues for all market participants, artificial intelligence and data science are key tools for BlackRock in going forward with these trading challenges.
Research from TABB Group recently showed that the majority of buy-side firms anticipate an increased spend on AI technology over the next 12 months. The research group also surveyed 160 buy-side, sell-side and exchanges on their use of the technology and found that current internal budgets are modest, with 75% of respondents revealing they either have no budget in place, or a budget of up to $500,000.
However, 61% of asset managers said that they expect spend on AI technology to increase over the next 12 months, while 39% expect it to remain the same. At the same time, 80% of sell-side firms and 55% of exchanges, or trading venues, anticipate increased spend.
"If you're in trading you have no choice but to invest into a serious amount of data analytics – advanced data analytics," added Leon. "You have to somehow be able to turn the market into something you understand. If you are not rebuilding liquidity at your level then you're just not able to see what you need to do."