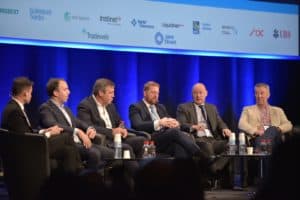 Several industry veterans have criticised efforts by policy makers in Europe to force more trading volumes from dark to lit venues under MiFID II.
Senior market participants from European exchanges and the sell-side agreed during a panel discussion at this year's TradeTech conference that the central aim of MiFID II to shift activity to on-exchange venues was misguided, although it has led to positive innovation within the industry.
"I was surprised that the unintended consequences of MiFID II have actually been positive. Before MiFID II was implemented, we were all convinced that it would have a negative effect on markets, but instead we've seen positive innovation driven by commercial need," said Richard Semark, CEO of UBS MTF.
"The policy's objective has been to move trading to lit markets, with no backing or basis for that. But the reality that we see as market participants is that lit venues are often not the best place trade, so other venues have come into the marketplace because we are still committed to getting the best outcome for our investors."
Similarly, Mark Hemsley, president of exchange operator Cboe Europe, told delegates that investors are constantly seeking low impact execution, previously provided by broker crossing networks, which have been shut down under MiFID II. The closure of broker crossing networks has seen a rise in the use of alternative trading venues such as periodic auctions and systematic internalisers (SIs).
"If you speak to the buy-side and brokers, there's always been a genuine need to execute in low impact ways through dark pools or broker crossing networks. Those venues have clashed with regulators forcing the political drive to move everything towards a lit environment," Hemsley said.
"But the industry finds a way around that. The problem we saw moving from MiFID I to MiFID II was the incremental approaches to dark trading, and the artificial double volume caps have led to a surge in activity within the SI environment and periodic auctions, ultimately detracting from lit liquidity. Regulators need to take a more fundamental approach."
The regulatory ploy to shift volumes to lit markets has been a topic of discussion at TradeTech Europe this year, with Citigroup's head of European market structure, Jame Baugh, stating on a panel session during the first day of the event that navigating the new trading landscape has been a huge effort for the industry.
"A lot of innovation, time and resources have been spent on looking at ways of sourcing liquidity, connecting to SIs, looking at periodic auctions and navigating the liquidity that they can provide," Baugh said. "The unfortunate outcome is that the channel shift has been fairly muted. When we look at the percentage of business that has migrated to lit venues, it has been relatively small."
On lingering concerns about the UK's impending exit from the European Union, some of the panelists agreed that the long-term impact of Brexit could be positive in terms of increasing competition. But others reiterated the need to find sufficient harmonisation with some form of equivalence to preserve the UK's right outside of the EU to be more creative.
"It's about finding that balance because ultimately we want integrated capital markets. I agree that increased competition will be a positive, but we don't want to jeopardise equivalence," Rob Boardman, CEO of Virtu Execution Services for EMEA at Virtu Financial, said.