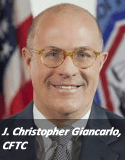 A Commissioner from the top US derivatives market regulator has blasted his own agency's implementation of swaps reforms, aimed at reducing risk and increasing transparency in a previously opaque market.
 J. Christopher Giancarlo has published an 89-page proposal pushing for a re-think of new swaps rules which have overhauled the market. 
Among his criticisms, Giancarlo highlighted that the Commodity Futures Trading Commission's (CFTC) rules have driven market participants away from trading with US entities. 
He also pointed to the regulations fragmenting swaps trading in artificial market segments, increasing market liquidity risk and making it expensive to operate trading venues.
"I am critical of the CFTC's swaps trading rules because they increase market fragility and the systemic risk that the Dodd-Frank reforms were predicated on reducing," said Giancarlo. "The rules also do not comply with the clear provisions of the law."
The CFTC was first out of the blocks to implement swaps reforms in line with the G20 requirements set out during the Pittsburgh meeting in 2009. These included mandatory central clearing of swaps and the establishment of swap execution facilities for the electronic execution of the bilateral interest rate and credit default trades.
Europe followed the US in rolling out many of the rules, however both have been criticised for various parts of the respective frameworks.
The relationship between the two jurisdictions has also been dented as they struggle to recognise each other's regulations and grant equivalence.
As a result, Giancarlo not only pointed out the flaws in the CFTC's rules but suggested alternatives.
"My proposed swaps trading framework is pro-reform. It offers a comprehensive, cohesive and flexible alternative that betters aligns with swaps market dynamics and is more true to Congress's stated intentions," he added. 
His five-point alternative includes the introduction of examinations for swaps traders and brokers to raise the standards of professionalism in the swaps market.
Giancarlo also calls for flexibility in swaps trading, transparency by promoting swaps trading and market liquidity and subjecting the broadest range of US swaps trading activity to CFTC oversight.