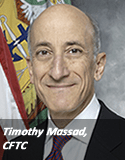 US derivatives regulators have been active in approving Asian exchanges for US-based traders to access this week, striking deals in Tokyo, Singapore and Malaysia.
Commodity Futures Trading Commission (CFTC) chairman Timothy Massad has been visiting each country individually to improve regulators coordination between the Asian markets and the US.
Under new regulations, the CFTC has to approve overseas venues in order for US-based persons to trade on them electronically.
The deal with the Singapore Exchange (SGX) allows traders to access equity index, interest rate, commodity and foreign exchange futures and options contracts on the platform.
The CFTC found that SGX's regulatory regime under the Monetary Authority of Singapore satisfied its requirements.
Similarly the deal with Bursa Malaysia gives access to a range of commodity and financial derivatives. The agreement with the Tokyo Commodity Exchange was mainly for electronic access to commodities products listed on the exchange.
"Because the economies of Asia, the United States, and Europe are so interconnected, we must work together to build a global regulatory framework," said Massad earlier this week.